The Tightrope Walkers (Hardcover)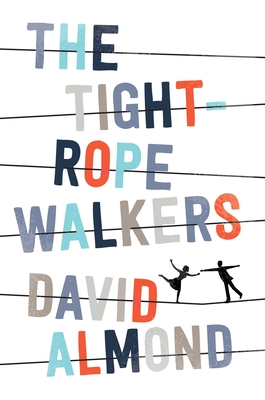 List Price: $17.99
Our Price: $14.95
(Save: $3.04 17%)
Description
---
International award winner David Almond draws on memories of his early years in Tyneside, England, for a moving coming-of-age novel, masterfully told.

A gentle visionary coming of age in the shadow of the shipyards of northern England, Dominic Hall is torn between extremes. On the one hand, he craves the freedom he feels when he steals away with the eccentric girl artist next door, Holly Stroud—his first and abiding love—to balance above the earth on a makeshift tightrope. With Holly, Dom dreams of a life different in every way from his shipbuilder dad's, a life fashioned of words and images and story. On the other hand, he finds himself irresistibly drawn to the brutal charms of Vincent McAlinden, a complex bully who awakens something wild and reckless and killing in Dom. In a raw and beautifully crafted bildungsroman, David Almond reveals the rich inner world of a boy teetering on the edge of manhood, a boy so curious and open to impulse that we fear for him and question his balance—and ultimately exult in his triumphs.
About the Author
---
David Almond has received several major awards, including a Hans Christian Andersen Award, a Carnegie Medal, two Whitbread Awards, an Eleanor Farjeon Award, and a Michael L. Printz Award. He is known worldwide as the author of Skellig, Clay, and many other plays, stories, and novels, including The True Tale of the Monster Billy Dean as well as The Boy Who Swam with Piranhas, illustrated by Oliver Jeffers; The Savage, Slog's Dad, and Mouse Bird Snake Wolf, illustrated by Dave McKean; and My Dad's a Birdman and The Boy Who Climbed Into the Moon, illustrated by Polly Dunbar. David Almond lives in England.
Praise For…
---
The text overflows with sensory detail that lifts clean off the page the stink of the oil from the ship's dark tank and the scratch of Dom's pen as he writes his way free of his father's hard life. Almond's rough, beautiful world of books and ships, sinners and saints is a lyrical reminder of how, when we lose our equilibrium, art can redeem us.
—The New York Times

A tour de force. ... The novel is by turns reminiscent of classic bildungsromans such as the Billy Elliott film, Harper Lee's To Kill a Mockingbird and Stephen King's IT, yet it retains a distinctive heart and voice of its own. ... An absolute must-have.
—School Library Journal (starred review)

The award-winning Almond poetically plumbs the depths of his 1950s and '60s childhood to explore themes of violence, war, God, creativity, beauty, death, art, the soul, our animal selves, whether we ever grow up or can really know each other…in short, life.
—Kirkus Reviews (starred review)

In a powerfully realistic bildungsroman from award-winning author Almond (The True Tale of the Monster Billy Dean), Dominic Hall, the son of a working man from Newcastle, seems destined for greater success than was possible for his ill-educated and often angry father.... Almond's characteristic penetrating writing and finely drawn characters are on full display in a story more fully grounded in a specific and important historical moment than anything he has published heretofore.
—Publishers Weekly (starred review)

Some books stand out for their characters, others for their sense of place, and some for their stories and themes. Almond has a facility for all those elements. The two most sharply drawn characters here are Vincent, as polluted as the Tyne but a force of nature nonetheless, and, rather surprisingly, Mr. Hall.... Teens will feel the events most viscerally—the brutishness, the love, the rejections. Adults, meanwhile, will bring their own world-weary self-knowledge, which cuts in its own way. Wild and reckless, heartbreaking and hopeful—this elegy on life is not to be missed.
—Booklist (starred review)

The novel is Shakespearean in its breadth, earthiness, and emotional pitch. A mysterious tramp who wanders in and out of the narrative—unspeaking, benevolent, holy—is like a precursor of Skellig. It ends with a wedding and a newborn baby, but that final section is a Rorschach test for the reader. Is the overall mode comedic or tragic? There is much room for discussion in this difficult and brilliant novel.
—The Horn Book (starred review)

In prose that reads like richly imagistic poetry, Dom sorts through what it means to walk a metaphorical tightrope, caught between social classes, between his mother's dreams and his father's fears, between his gentler, creative nature and his attraction to the rough camaraderie of outlaw boys and working men. The interplay between the characters and their environments results in a stunningly human and humanizing story. This is by far Almond's best work to date, and in light of the awards he's already accrued, that's saying something
—Bulletin of the Center for Children's Books (starred review)

Almond's magnetic narrative conveys the sounds and heat of the shipyards, the smells of the circus tent where Dom and Holly see the tightrope walkers, the quality of the light at sunset after a satisfying day. And he tells of the tightrope humans walk between social divides, sanity and insanity, faith and doubt, friendship and sex, what we're born to, what we can rise above—and what traps us. Mesmerizing.
—Shelf Awareness (starred review)

Almond invites readers into the hearts and minds of these characters through authentic dialogue and rich description. This is a haunting tale of the kind of conflict and tension that is just right for young adults.
—Literacy Daily

Almond delivers a beautifully written tale of growing up in the north of England in the 1960s...The novel is full of lyrical passages and wonderful characters.
—School library Connection