The Riddle: Book Two of Pellinor (Pellinor Series) (Paperback)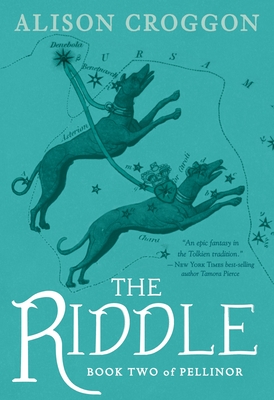 List Price: $9.99
Our Price: $8.49
(Save: $1.50 15%)
Warehouse, In Stock | Usually Ships in 1-5 Days | New
Description
---
"Epic fantasy in the Tolkien tradition, with a strong girl hero who is entirely believable in her struggles. . . . I couldn't put it down!" — Tamora Pierce, author of the Protector of the Small and the Circle Opens quartets

Maerad's powers grow stronger by the day, but she and her mentor, Cadvan, are hunted by both the Light and the Dark, and their world threatens to erupt into chaos. Their quest to unravel the Riddle of the Treesong leads Maerad over terrifying seas and glacial wilderness, into the grasp of the seductive Winterking and the prison of his icy realm.
About the Author
---
Alison Croggon is an award-winning poet whose work has been published around the globe. She started to write the books of Pellinor when her oldest son, Josh, began to read fantasy, and is currently working on the third and fourth books of the quartet. She lives in Australia.
Praise For…
---
"I live," said Arkan with a peculiar arrogance as they walked. "And I do not die. The wind lives, the snow lives, the ice lives, the mountains live. Rick and ice have their own voices, their own lives, their own breath, their own pulse. Do you deny them that?"

"No," said Maerad, unable to conceal the sadness in her voice. "But I like flowers."

"I will make you flowers if you desire them."

"They would be flowers of ice. Beautiful, but cold. It wouldn't be the same. But thank you."

They walked in silence for a time through the endless, beautiful corridors, and despite herself Maerad found she was admiring the beauties of Arkan-da with different eyes. The design of the pillars had changed subtly, she thought; she saw flowers within them, all with six petals, but infinitely various and intricate. She was always conscious of the man pacing beside her, although she did not look at him.

"Why do you wish to please me?" she asked, breaking the silence. "You could just as easily cast me into some dark dungeon. What difference would it make to you?"

"It is better if you do not hate or fear me," said Arkan. "Song cannot be made out of hatred and fear. That is what Sharma failed to understand."

"What is needed to make Song, then?"

Arkan turned and looked her full in the face, and Maerad's heart skipped a beat. "Do you not know?" he asked.

Maerad looked down at the floor and watched her feet. She did not want to answer.
_________

THE RIDDLE by Alison Croggon. Copyright (c) 2006 by Alison Croggon. Published by Candlewick Press, Inc., Cambridge, MA.