The Witling (Paperback)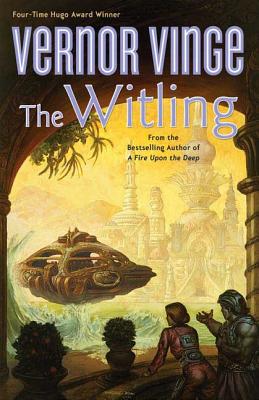 List Price: $17.99
Our Price: $15.29
(Save: $2.70 15%)
Description
---
This second novel by multiple award-winner Vernor Vinge, from 1976, is a fast-paced adventure where galactic policies collide and different cultures clash as two scientists and their faith in technology are pitted against an elusive race of telekinetic beings.

Marooned on a distant world and slowly dying of food poisoning, two anthropologists are caught between warring alien factions engaged in a battle that will affect the future of the world's inhabitants and their deadly telekinetic powers. If the anthropologists can't help resolve the conflict between the feuding alien factions, no one will survive.

This edition features sixteen full-page illustrations by Doug Beekman.
About the Author
---
Vernor Vinge is the multi Hugo Award-winning author of A Fire Upon the Deep, A Deepness in the Sky, and Rainbow's End. Known for his rigorous hard-science approach to his science fiction, he became an iconic figure among cybernetic scientists with the publication in 1981 of his novella "True Names," which is considered a seminal, visionary work of Internet fiction. His many books also include Marooned in Realtime and The Peace War.

Born in Waukesha, Wisconsin and raised in Central Michigan, Vinge is the son of geographers. Fascinated by science and particularly computers from an early age, he has a Ph.D. in computer science, and taught mathematics and computer science at San Diego State University for thirty years. He has gained a great deal of attention both here and abroad for his theory of the coming machine intelligence Singularity. Sought widely as a speaker to both business and scientific groups, he lives in San Diego, California.
Praise For…
---
"Vernor Vinge has long been one of the best writers of innovative, thought-provoking, character-as-well-as-science-driven SF." —Amazing Stories on Vernor Vinge

"Vernor Vinge is one of our most notable writers." —Analog on True Names

"Vinge . . . is among the very best of the current crop of hard SF writers, producing work that is not only fast-paced and intellectually challenging, but also stylishly written and centered on carefully drawn characters." —Publishers Weekly on A Deepness in the Sky