Boca Daze (Hardcover)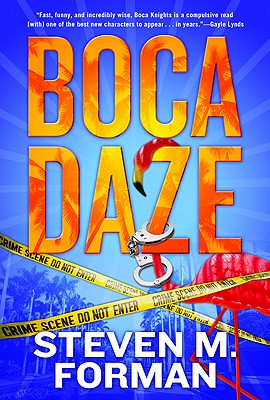 $25.99
This item is backordered. Please contact us for an estimated availability date.
Description
---
Retired Boston cop Eddie Perlmutter returns in Steven Forman's "Boca Daze." Since moving to Boca Raton, Florida, Eddie's busted Russian counterfeiters, solved at least two murders, thwarted neo-Nazi harassment, and gained justice for a number of those who couldn't do it for themselves. This "Boca Knight" knows no fear--except perhaps when he's facing the intimate challenge of sex as a sexagenarian. But Eddie may have met his match when he tries to shut down a string of illegal pill mills and finds himself a financial scammer as big as Bernie Madoff.

Armed with his unfailing wit, his Boston-bred fighting skills, and his courage in the face of danger that would make any sensible retiree head for the comfort of his condo, Eddie's walking on gimpy knees straight into the most dangerous game of his never-dull life.
About the Author
---
STEVEN M. FORMAN grew up in the Boston area. "Boca Daze "is his third comic mystery featuring Eddie Perlmutter. Forman and his wife live in Massachusetts when it's warm, and Boca Raton, Florida, when it's cold.
Praise For…
---
"The incomparable Eddie Perlmutter returns for another wild and wicked thrill ride across Boca Raton and beyond. I love this guy—and this series."  —Douglas Preston, author of Impact, on Boca Mournings
"This novel is long on clever dialogue and character development. Mystery readers of all stripes will like what they find here."  —Booklist on Boca Mournings
"Boca Mournings is a riotous, ribald look into the wacky world of South Florida. Not since Hiaasen has anyone captured the pothole-marred, driving-impaired, and geriatric-dominated zaniness as well as the new master of the comic crime novel Steve Forman."  —Jon Land, bestselling author of The Seven Sins
"Mystery fans who like their operatives macho with an offbeat sense of humor will certainly enjoy this book and look forward to the next in the series."  —Library Journal on Boca Knights