The O'Reilly Factor: The Good, the Bad, and the Completely Ridiculous in American Life (Paperback)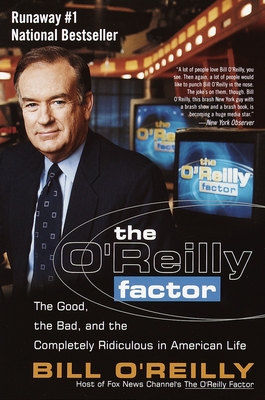 List Price: $15.99
Our Price: $15.19
(Save: $0.80 5%)
Description
---
The million-copy New York Times bestseller from the Fox News anchor who's brought new excitement–and massive amounts of populist common sense and rock-solid honesty–to television news.

Now four seasons strong, Bill O'Reilly's nightly cable news program, "The O'Reilly Factor," is one of the hottest shows on the air. In book form, The O'Reilly Factor has sold over a million copies and spent fourteen weeks at the top of the New York Times bestseller list. Obviously, Bill O'Reilly has made his mark. His blunt, ironic, no-holds-barred style has earned him a devoted audience–friends and foes alike–who send him five thousand letters every week. And with the wit and intelligence that have made him one of the most talked-about stars in both television and publishing, O'Reilly continues to identify what's right, what's wrong, and what's absurd in the political, social, economic, and cultural life of America.
About the Author
---

A twenty-year veteran of the television industry, Bill O'Reilly has won two Emmy awards for excellence in reporting. He served as national correspondent for ABC News and as anchor of the nationally syndicated Inside Edition. A graduate of Marist College, he holds two master's degrees, one in public administration from Harvard and another in broadcast journalism from Boston University. He lives on Long Island with his wife and their daughter.
Praise For…
---
"A lot of people love Bill O'Reilly, you see. Then again, a lot of people would like to punch Bill O'Reilly in the nose. The joke's on them, though. Bill O'Reilly, this brash New York guy with a brash show and a brash book, is becoming a huge media star." –New York Observer

"He is a complicated man, at once belligerent and self-effacing, ambitious and determined to remain humble. He can be a loudmouth but also companionable. He is Everyman on a barstool, mad as hell, but with a wink." –Newsweek

"This book bristles with assumptions, assessments, and attitudes that will either have you bobbing your head in agreement or shaking it in disbelief. No wonder O'Reilly's ratings are rising the way the stocks once did." –Forbes

"Personal anecdote meets political discourse in [The O'Reilly Factor] where O'Reilly is in a pure, heartfelt state. He's softhearted and enraged in equal measures. He's hard-driven and bemused by where his drive got him. He's the male sphinx as TV blabbermouth."
–James Ellroy, GQ