Do As I Say (Not As I Do): Profiles in Liberal Hypocrisy (Paperback)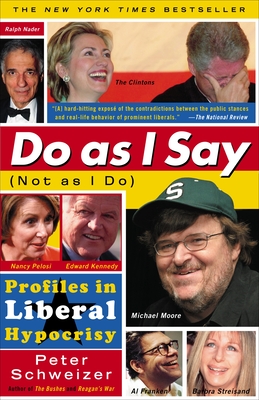 List Price: $16.00
Our Price: $15.20
(Save: $0.80 5%)
Description
---
"I don't own a single share of stock." —Michael Moore

Members of the liberal left exude an air of moral certitude. They pride themselves on being selflessly committed to the highest ideals and seem particularly confident of the purity of their motives and the evil nature of their opponents. To correct economic and social injustice, liberals support a whole litany of policies and principles: progressive taxes, affirmative action, greater regulation of corporations, raising the inheritance tax, strict environmental regulations, children's rights, consumer rights, and much, much more.

But do they actually live by these beliefs? Peter Schweizer decided to investigate in depth the private lives of some prominent liberals: politicians like the Clintons, Nancy Pelosi, the Kennedys, and Ralph Nader; commentators like Michael Moore, Al Franken, Noam Chomsky, and Cornel West; entertainers and philanthropists like Barbra Streisand and George Soros. Using everything from real estate transactions, IRS records, court depositions, and their own public statements, he sought to examine whether they really live by the principles they so confidently advocate.

What he found was a long list of glaring contradictions. Michael Moore denounces oil and defense contractors as war profiteers. He also claims to have no stock portfolio, yet he owns shares in Halliburton, Boeing, and Honeywell and does his postproduction film work in Canada to avoid paying union wages in the United States. Noam Chomsky opposes the very concept of private property and calls the Pentagon "the worst institution in human history," yet he and his wife have made millions of dollars in contract work for the Department of Defense and own two luxurious homes. Barbra Streisand prides herself as an environmental activist, yet she owns shares in a notorious strip-mining company. Hillary Clinton supports the right of thirteen-year-old girls to have abortions without parental consent, yet she forbade thirteen-year-old Chelsea to pierce her ears and enrolled her in a school that would not distribute condoms to minors. Nancy Pelosi received the 2002 Cesar Chavez Award from the United Farm Workers, yet she and her husband own a Napa Valley vineyard that uses nonunion labor.

Schweizer's conclusion is simple: liberalism in the end forces its adherents to become hypocrites. They adopt one pose in public, but when it comes to what matters most in their own lives—their property, their privacy, and their children—they jettison their liberal principles and embrace conservative ones. Schweizer thus exposes the contradiction at the core of liberalism: if these ideas don't work for the very individuals who promote them, how can they work for the rest of us?
About the Author
---
PETER SCHWEIZER is a fellow at the Hoover Institution and the author of several books, including Reagan's War and The Bushes. He lives in Florida with his wife and their two children.
Praise For…
---
"A spirited attack on lefty icons." —New York Times

"An entertaining exposure . . . In a series of 11 profiles on leftist icons from Noam Chomsky and Al Franken to Hillary Clinton and Ted Kennedy, Schweizer reveals that the most vocal liberals do not practice what they preach."
—The Weekly Standard