The Phantom of the Opera (Chartwell Classics) (Hardcover)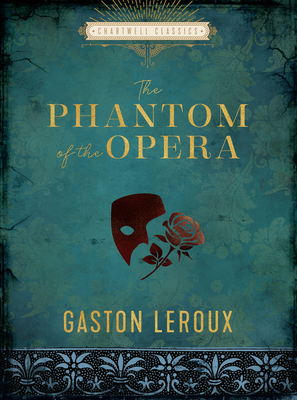 List Price: $12.99
Our Price: $11.04
(Save: $1.95 15%)
Description
---
Filled with passion, love, and suspense, The Phantom of the Opera is a thrilling classic.
Rumors abound that the Paris Opera House is haunted by a ghost. Nobody has ever seen it, but it makes itself known through malevolent acts. First published in book form in 1911, this gothic novel by Gaston Leroux has been fascinating readers for more than a century and is the inspiration for the long-running hit musical. 
This elegant, unabridged edition includes an introduction by literary critic Susan Balée and a timeline of the author's life at the back. Join the generations of fans seduced by this enthralling story of mystery and romance.

Essential volumes for the shelves of every classic literature lover, the Chartwell Classics series includes beautifully presented works and collections from some of the most important authors in literary history. Chartwell Classics are the editions of choice for the most discerning literature buffs.
 
Other titles in the Chartwell Classics Series include: Complete Fiction of H.P. Lovecraft; Complete Grimm's Fairy Tales; Complete Novels of Jane Austen; Complete Sherlock Holme; Complete Tales & Poems of Edgar Allen Poe; Complete Works of William Shakespeare; Divine Comedy; Alice's Adventures in Wonderland and Other Tales; The Essential Tales of H.P. Lovecraft; The Federalist Papers; The Inferno; The Call of the Wild and White Fang; Moby Dick; The Odyssey; Pride and Prejudice; The Essential Grimm's Fairy Tales; Emma; The Great Gatsby; The Secret Garden; Anne of Green Gables; The Essential Tales and Poems of Edgar Allan Poe; The Communist Manifesto and Das Kapital; Republic; Frankenstein; Twenty Thousand Leagues Under the Sea; The Picture of Dorian Gray; Meditations; Wuthering Heights; Alice's Adventures in Wonderland and Through the Looking-Glass; A Tales of Two Cities; Beowulf; The Strange Case of Dr. Jekyll and Mr. Hyde and Other Stories; Adventures of Huckleberry Finn; Little Women
 
About the Author
---
Gaston Leroux (1868-1927) was a French journalist and novelist born in Paris. The Phantom of the Opera is his most-famous work, and is best known for its adaptation into the longest-running Broadway musical.