Bureaucracy in a Democratic State: A Governance Perspective (Paperback)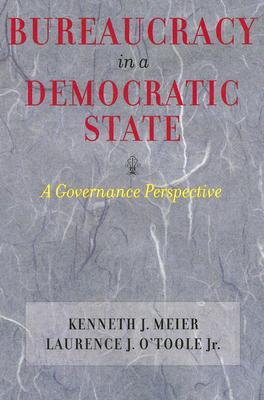 $33.60

Warehouse, In Stock | Usually Ships in 1-5 Days | New
Description
---
Here, Kenneth J. Meier and Laurence J. O'Toole Jr. present a timely analysis of working democracy, arguing that bureaucracy--often considered antithetical to fundamental democratic principles--can actually promote democracy.
Drawing from both the empirical work of political scientists and the qualitative work of public administration scholars, the authors employ a "governance approach" that considers broad, institutionally complex systems of governance as well as the nitty-gritty details of bureaucracy management. They examine the results of bureaucratic and political interactions in specific government settings, locally and nationally, to determine whether bureaucratic systems strengthen or weaken the connections between public preferences and actual policies. They find that bureaucracies are part of complex intergovernmental and interorganizational networks that limit a single bureaucracy's institutional control over the implementation of public policy. Further, they conclude that top-down political control of bureaucracy has only modest impact on the activities of bureaucracy in the U.S. and that shared values and commitments to democratic norms, along with political control, produce a bureaucracy that is responsive to the American people.
About the Author
---
Kenneth J. Meier is the Charles H. Gregory Chair in Liberal Arts in the Department of Political Science at Texas A & M University and the director of the Project for Equity, Representation, and Governance. He is also a professor of public management at Cardiff University in Wales. Laurence J. O'Toole Jr. is the Margaret Hughes and Robert T. Golembiewski Professor and Head of the Department of Public Administration at the School of Public Administration and International Affairs, University of Georgia. Both are editors of the Johns Hopkins University Press Series in Governance and Public Management.