When Sorry Isn't Enough: Making Things Right with Those You Love (Paperback)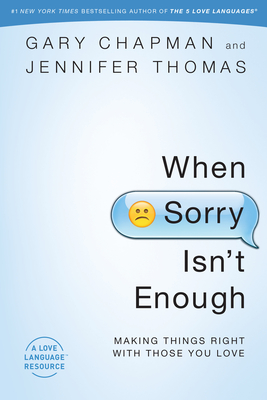 List Price: $15.99
Our Price: $13.59
(Save: $2.40 15%)
Description
---
"I said I was sorry!"
Even in the best of relationships, all of us make mistakes. We do and say things we later regret and hurt the people we love most. So we need to make things right. But simply saying you're sorry is usually not enough.
In this book, #1 New York Times bestselling author Gary Chapman and Jennifer Thomas unveil new ways to effectively approach and mend fractured relationships. Even better, you'll discover how meaningful apologies provide the power to make your friendships, family, and marriage stronger than ever before.
When Sorry Isn't Enough will help you . . .
Cool down heated arguments
Offer apologies that are fully accepted
Rekindle love that has been dimmed by pain
Restore and strengthen valuable relationships
Trade in tired excuses for honesty, trust, and joy
*This book was previously published as The Five Languages of Apology. Content has been significantly revised and updated.
About the Author
---
GARY CHAPMAN--author, speaker, counselor--has a passion for people and for helping them form lasting relationships. He is the #1 bestselling author of The 5 Love Languages series and director of Marriage and Family Life Consultants, Inc. Gary travels the world presenting seminars, and his radio programs air on more than 400 stations. For more information visit his website at www.5lovelanguages.com.

JENNIFER M. THOMAS, Ph.D., is a motivational speaker specializing in the five love languages and communication. She is a business consultant and psychologist. She recently gave a TEDx talk on the two essentials for healthy relationships. Hint: They involve a love tank and forgiveness. She is co-author (with Gary Chapman) of When Sorry Isn't Enough and The Five Languages of Apology. Her books have been translated into fifteen foreign languages and sold hundres of thousands of copies around the world. Jennifer has a doctoral degree in Clinical Psychology from the University of Maryland, as well as a BA in Psychology and Religion from the University of Virginia. Visit her website at www.drjenthomas.com to take a free apology profile and register for her enewsletter.