Is There No Place on Earth for Me? (Paperback)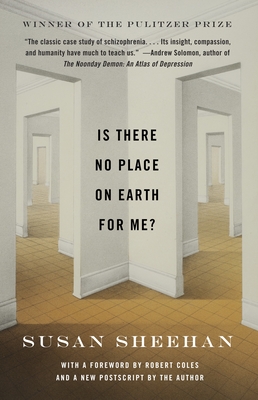 List Price: $18.00
Our Price: $17.10
(Save: $0.90 5%)
Description
---
This renowned journalist's classic Pulitzer Prize-winning investigation of schizophrenia—now reissued with a new postscript—follows a flamboyant and fiercely intelligent young woman as she struggles in the throes of mental illness.
"Sylvia Frumkin" was born in 1948 and began showing signs of schizophrenia in her teens. She spent the next seventeen years in and out of mental institutions. In 1978, reporter Susan Sheehan took an interest in her and, for more than two years, became immersed in her life: talking with her, listening to her monologues, sitting in on consultations with doctors—even, for a period, sleeping in the bed next to her in a psychiatric center. With Sheehan, we become witness to Sylvia's plight: her psychotic episodes, the medical struggle to control her symptoms, and the overburdened hospitals that, more often than not, she was obliged to call home. The resulting book, first published in 1982, was hailed as an extraordinary achievement: harrowing, humanizing, moving, and bitingly funny. Now, some two decades later, Is There No Place on Earth for Me? continues to set the standard for accounts of mental illness.
About the Author
---
Susan Sheehan is the author of eight works of nonfiction. In 1983, she received a Pulitzer Prize for Is There No Place On Earth For Me? She is also a staff writer at The New Yorker.
Praise For…
---
"The classic case study of schizophrenia that set the stage for reform. . . . Its insight, compassion, and humanity have much to teach us." —Andrew Solomon 

"Compelling, mordantly funny. . . . [A] beautifully written chronicle." —The New York Times 

"A brilliantly documented chronicle of a young woman's long struggle with schizophrenia." —The New Republic

"Susan Sheehan has committed an extraordinary act of journalism. . . . She brings relentless intelligent attention to bear on a particular case, a journalistic practice that almost always results in new and disturbing insights into those mindless generalities and prejudice and certitudes we tend to carry around with us." —The Washington Post Book World

"Sheehan is tenacious, observant and unsentimental. The history of a single patient leads us into a maze of understaffed institutions, bureaucratic fumbling, trial-and-error treatment and familial incomprehension. Though Sheehan keeps herself invisible, her sympathy is palpable." —Newsweek

"[A] monumental piece of reportage. . . . A model of close-up journalism: totally convincing, unsentimental yet obviously compassionate, rigorously plain." —Kirkus Reviews