Assholes: A Theory (Paperback)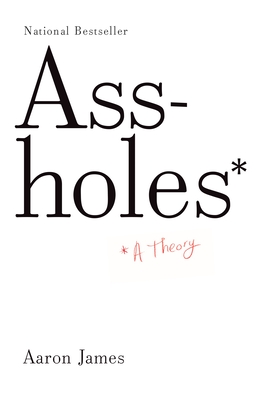 List Price: $16.00
Our Price: $13.60
(Save: $2.40 15%)
Warehouse, In Stock | Usually Ships in 1-5 Days | New
Description
---
The perfect graduation gift for every young adult entering the real world.

In the New York Times bestseller Nick Hornby calls "helpful, stimulating, and very timely" (The Believer), philosopher Aaron James presents a theory of the asshole that is both intellectually provocative and existentially necessary.

What does it mean for someone to be an asshole? The answer is not obvious, despite the fact that we are often personally stuck dealing with people for whom there is no better name. Try as we might to avoid them, assholes are found everywhere and in multiple iterations: smug assholes, royal assholes, the presidential asshole, corporate assholes, reckless assholes. The list goes on.

Asshole management begins with asshole understanding. Much as Machiavelli illuminated political strategy for princes, this book finally gives us the concepts to think or say why assholes disturb us so, and explains why such people seem part of the human social condition, especially in an age of raging narcissism and unbridled capitalism. These concepts are also practically useful, as understanding the asshole we are stuck with helps us think constructively about how to handle problems he (and they are mostly all men) presents. We get a better sense of when the asshole is best resisted, and when he is best ignored—a better sense of what is, and what is not, worth fighting for.
About the Author
---
Aaron James holds a PhD from Harvard and is Professor of Philosophy at the University of California, Irvine. He is the author of Fairness in Practice: A Social Contract for a Global Economy, and was awarded the Burkhardt Fellowship from the American Council of Learned Societies, spending the 2009-10 academic year at the Center for Advanced Study in the Behavioral Sciences at Stanford University. He's an avid surfer (the experience of which has directly inspired this book) . . . and he's not an asshole.
Praise For…
---
"Convincing and often quite funny. . . . James neatly unpacks the basic features of the most loathsome individual. . . . [He] makes a rigorous case for why we should take the problem of the asshole seriously."
—Los Angeles Review of Books

"James's keen intelligence overwhelms you, and you realize that Assholes is helpful, stimulating, and very timely."
—Nick Hornby, The Believer
 
"Enjoyable. . . . Light-hearted yet thought-provoking. . . . Importantly, [James makes] us confront a crucial question, which, I believe, we ask ourselves all too infrequently: How much of an asshole am I?"
—Alex Balk, Slate

"James neatly does what philosophers must do: he defines his terms, organizes and codifies, declares his own loyalties; he locates himself on the spectrum of assholery and suggest origins both psychological and sociological. The result is a delightful combination of the demotic and the technical."
—Harper's Magazine

"James's volume is equal parts philosophical meditation and historical survey, but its true value lies in his attempt to precisely define the term."
—New York Magazine

"The times are right for a follow-up [to Frankfurt's On Bullshit]. . . . James's volume is in roughly equal parts a philosophical meditation, a pop historical survey and a practical guide to negotiate the treacherous rectal waters in which we swim; but, its true value lies in his attempt to define the term precisely. . . . In Assholes, he is doing more than poking fun at all the people we like to despise."
—The Innovation Journal

"Intriguing. . . . To put meat on the bones of his theory, James names names."
—The Chronicle of Higher Education

"Aaron James provides us with a delightful philosophical romp through the world of assholes. I was especially tickled by his analysis of different types: smug assholes, royal assholes, the presidential asshole, corporate assholes, the reckless assholes, to name a few."
—Robert I. Sutton, Stanford professor and author of the New York Times bestsellers The No Asshole Rule and Good Boss, Bad Boss

"[James's] witty and accessible study of the personal and social problems the asshole creates draws on his lucid and brilliant accounts of the best in contemporary moral and political philosophy. James's analysis of asshole capitalism is a tour de force of philosophically astute political analysis and criticism. This is a book that should appeal equally to the general reader and the philosophical specialist."
—Marshall Cohen, founding editor of Philosophy and Public Affairs and university professor emeritus, University of Southern California

"A serious and sometimes whimsical treatment of a common epithet."
—Publishers Weekly

"James' research is both thorough and imaginative; his impressive source list ranges from obscure philosophy books to popular websites to Rudyard Kipling to Kanye West, hip-hop's greatest asshole. The author's enthusiasm for the subject makes it possible to get through the book quickly. . . . There are moments of great insight and outright hilarity."
—Kirkus Reviews

"Convincing. . . . It is in his chapter 'Asshole Capitalism' where James hits his stride."
—Maclean's (Toronto)

"Persuasive. . . . The thrust of James's thesis is timely. . . . Energetically argued and provoking."
—Literary Review (UK)