W D Farr: Cowboy in the Boardroom (Paperback)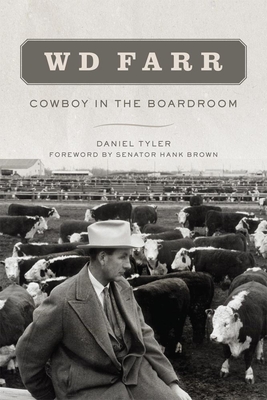 This item is backordered and not currently available. Please contact us for an estimated availability date.
Description
---
"Always a better way" was WD Farr's motto. As a Colorado rancher, banker, cattle feeder, and expert in irrigation, Farr (1910-2007) had a unique talent for building consensus and instigating change in an industry known for its conservatism. With his persistent optimism and gregarious personality, Farr's influence extended from next-door neighbors and business colleagues to U.S. presidents and foreign dignitaries. In this biography, Daniel Tyler chronicles Farr's singular life and career. At the same time, he tells a broader story of sweeping changes in agricultural production and irrigated agriculture in Colorado and across the West during the twentieth century.
WD was a third-generation descendant of western farming pioneers, who specialized in sheep feeding. While learning all he could from his father and grandfather, WD developed a new vision: to make cattle profitable. He sought out experienced livestock experts to help him devise ways to produce beef year-round. When World War II ended, and the troops came home tired of wartime mutton, the beef industry took off. With his new innovations in place, WD was ready.
Tyler also reveals WD's influence in securing water supplies for farmers and ranchers and in establishing water conservation policies. Early in his career, WD helped sell the Colorado-Big Thompson Project to skeptical, debt-ridden farmers. In 1955, he became a board member for the Northern Colorado Water Conservancy District, a post he held for forty years.
Tyler bases his portrait of WD Farr on extensive archival research and dozens of interviews with people who knew him personally or by reputation. In the end, Tyler shows that although not everybody agreed, or will agree, with Farr's stands on particular issues, this "cowboy in the boardroom" led by his own example. By embracing change and seeking consensus rather than forcing his will on others, his greatest legacy--as revealed in this book--may be the model of leadership he provided.