Billy the Kid: A Reader's Guide (Hardcover)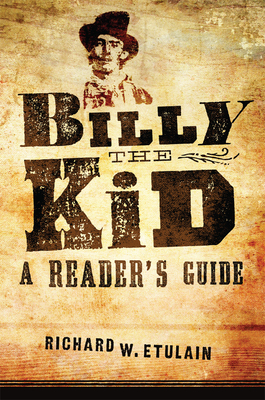 This item is backordered and not currently available. Please contact us for an estimated availability date.
Description
---
A central character in legends and histories of the Old West, Billy the Kid rivals such western icons as Jesse James and General George Armstrong Custer for the number of books and movies his brief, violent life inspired. Billy the Kid: A Reader's Guide introduces readers to the most significant of these written and filmed works. Compiled and written by a respected historian of the Old West and author of a masterful new biography of Billy the Kid, this reader's guide includes summaries and evaluations of biographies, histories, novels, and movies, as well as archival sources and research collections. Surveying newspaper articles, books, pamphlets, essays, and book chapters, Richard W. Etulain traces the shifting views of Billy the Kid from his own era to the present. Etulain's discussion of novels and movies reveals a similar shift, even as it points out both the historical inaccuracies and the literary and cinematic achievements of these works. A brief section on the authentic and supposed photographs of the Kid demonstrates the difficulties specialists and collectors have encountered in locating dependable photographic sources. This discerning overview will guide readers through the plethora of words and images generated by Billy the Kid's life and legend over more than a century. It will prove invaluable to those interested in the demigods of the Old West--and in the ever-changing cultural landscape in which they appear to us.