Synthetic Jungle: Poems (Paperback)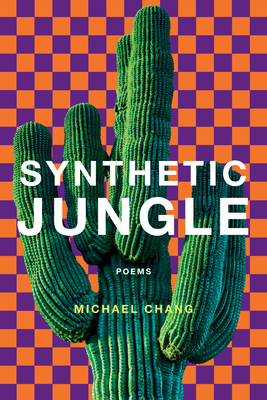 List Price: $18.00
Our Price: $15.30
(Save: $2.70 15%)
Coming Soon - Available for Pre-Order Now
Description
---
A new poetry collection from award-winning author Michael Chang
 
A vital breath of life arrives in American poetry with Synthetic Jungle, the latest collection from acclaimed poet Michael Chang. With poems in a register both hilarious and scathing, Synthetic Jungle effortlessly bashes convention while simultaneously rebuilding the language we use to communicate our fears and joys.
 
Synthetic Jungle is a collection written by a brilliant jester who winks at you as you catch their every reference before sharing a laugh at your own self-satisfaction. Themes of identity, sexuality, and literacy play out in a dizzying rhythm of microtheaters. Readers will find themselves giggling, snorting, and guffawing their way through this work: whether at a repudiation of the literary landscape or a critique of a failing justice system, to laugh along with Chang is to recognize your mistakes and, ultimately, grow from them.
 
Fractal and kinetic in the quick-witted spirit of John Ashbery and Emily Dickinson, Chang's tender poems dance around, between, and through the personal and philosophical. Synthetic Jungle is as sweet as it is grand, and beneath its sarcastic grin reverberates an immense, open heart.
 
About the Author
---
MICHAEL CHANG (they/them) is the author of several collections of poetry, including Boyfriend Perspective  and Almanac of Useless Talents. Their poems have been nominated for Best New Poets, Best of the Net, and the Pushcart Prize. They were awarded the Poetry Project's prestigious Brannan Prize in 2021. Tapped to edit Lambda Literary's Emerge anthology, they serve as a poetry editor at the acclaimed journal Fence.
Praise For…
---
"The poems in Synthetic Jungle work associatively, calling on readers to infer connections among its parts, but are just as likely, perhaps more likely, to move in a dissociative manner, working to disrupt our ability to anticipate. The result is a poetry that is frequently surprising, and whose catalogs acquire a type of force through accumulation. I'm particularly drawn to this poet's idiomatic voice and pop culture sensibilities. Chang is equally comfortable in conversation with Heidegger or Meet the Fockers, and the poems in Synthetic Jungle feel of our moment and urgent." —Matthew Olzmann, author of Constellation Route

"'Face down ass up'—thus begins Michael Chang's raucously intellectual and visceral collection Synthetic Jungle, where the question of how one is, the nature of an ever-changing/changed self, merges with who one can become, a self that in many ways resists existence by hyperexisting ('Most days I put on a good face, a werewolf') to absurd and viciously vulnerable limits. At once non-sequitur and scathingly direct, it is because every word is unexpected that every word convinces. A bewildering collection of ache, awe, and rebuttal." —Phillip B. Williams, author of Mutiny

"In this explosively frank collection, Michael Chang tunes their microscope to the textures and terrains of spaces at the intersection of private and social spheres. Here is a visionary moving along the edge of reality and its surreal offerings: the individual self alone with a mind that can't help but see the world through its interstices. 'The daunting task of eating an elephant, armed w/ only a spoon,' Chang writes, and this encapsulates their stunning brand of tongue-in-cheek logic as truth: Chang's lyric is nothing short of exquisite, full of verve, full of nails." —Diana Khoi Nguyen, author of Ghost Of