Zora Neale Hurston: An Annotated Bibliography of Works and Criticism (Hardcover)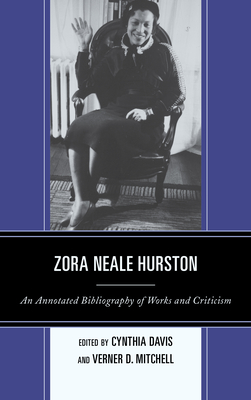 This item is backordered and not currently available. Please contact us for an estimated availability date.
Description
---
Zora Neale Hurston (1891-1960), the most prominent of the Harlem Renaissance women writers, was unique because her social and professional connections were not limited to literature but encompassed theatre, dance, film, anthropology, folklore, music, politics, high society, academia, and artistic bohemia. Hurston published four novels, three books of nonfiction, and dozens of short stories, plays, and essays. In addition, she won a long list of fellowships and prizes, including a Guggenheim and a Rosenwald. Yet by the 1950s, Hurston, like most of her Harlem Renaissance peers, had faded into oblivion. An essay by Alice Walker in the 1970s, however, spurred the revival of Hurston's literary reputation, and her works, including her 1937 novel Their Eyes Were Watching God, have enjoyed an enduring popularity. Zora Neale Hurston: An Annotated Bibliography of Works and Criticism consists of reviews of critical interpretations of Hurston's work. In addition to publication information, each selection is carefully crafted to capture the author's thesis in a short, pithy, analytical framework. Also included are original essays by eminent Hurston scholars that contextualize the bibliographic entries. Meticulously researched but accessible, these essays focus on gaps in Hurston criticism and outline new directions for Hurston scholarship in the twenty-first century. Comprehensive and up-to-date, this volume contains analytical summaries of the most important critical writings on Zora Neale Hurston from the 1970s to the present. In addition, entries from difficult-to-locate sources, such as small academic presses or international journals, can be found here. Although intended as a bibliographic resource for graduate and undergraduate students, this volume is also aimed toward general readers interested in women's literature, African American literature, American history, and popular culture. The book will also appeal to scholars and teachers studying twentieth-century American literature, as well as those specializing in anthropology, modernism, and African American studies, with a special focus on the women of the Harlem Renaissance.
About the Author
---
Cynthia Davis is professor of English and Interim Associate Dean of Academic Affairs at Barry University (Miami Shores, Florida). Verner D. Mitchell is professor of English and the Director of Graduate Studies at the University of Memphis. Davis and Mitchell are coauthors of three books, including Literary Sisters: Dorothy West and Her Circle, A Biography of the Harlem Renaissance (2012).