Helicopter Heroine: Valérie André--Surgeon, Pioneer Rescue Pilot, and Her Courage Under Fire (Hardcover)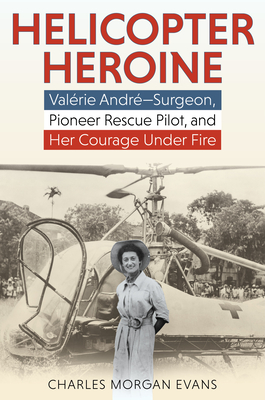 List Price: $34.95
Our Price: $29.71
(Save: $5.24 15%)
Warehouse, In Stock | Usually Ships in 1-5 Days | New
Description
---
Val rie Andr is one of the great military aviators of the twentieth century. She was the first woman to fly a helicopter in combat and one of the first three helicopter medevac pilots. Flying more than 150 helicopter rescue missions during the French war in Indochina (including at Dien Bien Phu), and parachuting into the field twice, Andr was a trailblazer, a pioneer of flying helicopters in combat and an innovator of battlefield medicine, who risked her life to treat the wounded, whether they were French or Vietnamese, whether they were friend, civilian, or foe. Aviation historian Charles Morgan Evans tells her story with verve and pathos.
Andr was born in Strasbourg, France, in 1922. From an early age, she wanted to fly, but as a woman, she faced challenges. While boys could receive government-funded flight lessons, Andr had to pay for hers by tutoring. During World War II, she left Strasbourg against German prohibitions in order to study medicine in Paris, where she completed her studies under threat of arrest by the Gestapo. Assigned to an army hospital in Saigon in French Indochina in the late 1940s, Andr trained as a neurosurgeon, performing one hundred procedures per month. When the French medical corps developed mobile surgical units to be air-dropped into military outposts, she quickly volunteered, and then when the service acquired a few primitive helicopters, she volunteered for that, which meant learning to fly helicopters in combat. Flying through bullets and bombs, fatigue, parasitic illness, and mechanical issues with the helicopters-- not to mention the French army's prejudice against a female pilot and surgeon--Andr nonetheless became a legend in Indochina. The Vietnamese called her "the woman who comes down from the sky" and "Mrs. Ventilator." On one day in December 1951, she flew her chopper into the teeth of antiaircraft fire to a besieged base, where she performed emergency brain surgeries, then flew the wounded to hospitals in Hanoi, two at a time.
After Indochina, she continued to be an innovator in military aviation and medicine as well as an advocate for women's integration into the French military. In the early 1960s, she flew another 236 missions in Algeria. In 1975, she became the first female general in the French army, and at her retirement, she had flown nearly 500 combat missions, logged 4,000 hours in helicopters, and won the Croix de Guerre five times, the Cross of Military Valor twice, and the Grand Cross of the National Order of Merit.
Andr , who just turned ninety-nine, is still alive and lives near Paris, and this book is based on a series of author interviews with her and comprehensive research in other sources.
About the Author
---
Charles M. Evans is the founding curator of the Hiller Air Museum in Redwood City, California. He has written about aviation history for such publications as American History, Aviation, and Civil War Times Illustrated and is author of War of the Aeronauts: A History of Ballooning in the Civil War (Stackpole, 2002).