Made Flesh: Sacrament and Poetics in Post-Reformation England (Hardcover)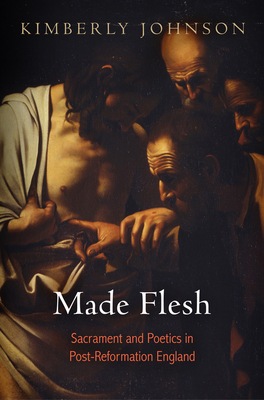 $71.50
This item is backordered and not currently available. Please contact us for an estimated availability date.
Description
---
During the Reformation, the mystery of the Eucharist was the subject of contentious debate and a nexus of concerns over how the material might embody the sublime and how the absent might be made present. For Kimberly Johnson, the question of how exactly Christ can be present in bread and wine is fundamentally an issue of representation, and one that bears directly upon the mechanics of poetry. In Made Flesh, she explores the sacramental conjunction of text with materiality and word with flesh through the peculiar poetic strategies of the seventeenth-century English lyric.
Made Flesh
examines the ways in which the works of John Donne, George Herbert, Richard Crashaw, Edward Taylor, and other devotional poets explicitly engaged in issues of signification, sacrament, worship, and the ontological value of the material world. Johnson reads the turn toward interpretively obstructive and difficult forms in the seventeenth-century English lyric as a strategy to accomplish what the Eucharist itself cannot: the transubstantiation of absence into perceptual presence by emphasizing the material artifact of the poem. At its core, Johnson demonstrates, the Reformation debate about the Eucharist was an issue of semiotics, a reimagining of the relationship between language and materiality. The self-asserting flourishes of technique that developed in response to sixteenth-century sacramental controversy have far-reaching effects, persisting from the post-Reformation period into literary postmodernity.
About the Author
---
Kimberly Johnson is Associate Professor of English at Brigham Young University. She is editor (with Jay Hopler) of Before the Door of God: An Anthology of Devotional Poetry and author of several volumes of poetry, including Leviathan with a Hook and A Metaphorical God.