Junctures in Women's Leadership: Higher Education (Junctures: Case Studies in Women's Leadership) (Paperback)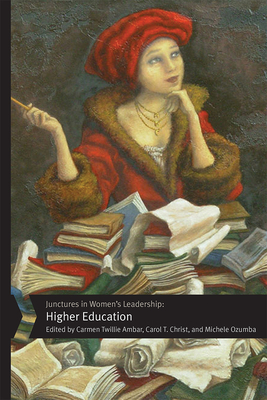 List Price: $24.95
Our Price: $14.99
(Save: $9.96 40%)
Description
---
Junctures in Women's Leadership: Higher Education brings into sharp focus the unique attributes of women leaders in the academy and adds a new dimension of analysis to the field of women's leadership studies. Women leaders interviewed in this volume include Bernice Sandler, Juliet Villarreal García, and Johnnetta Betsch Cole.
About the Author
---
CARMEN TWILLIE AMBAR is the president of Oberlin College, Ohio.

CAROL T. CHRIST is chancellor at University of California, Berkeley. 

MICHELE OZUMBA is the former president of Women's College Coalition, a nonprofit membership organization of women's colleges and universities in the United States and Canada.
Praise For…
---
"Each of the essays in this volume offers compelling examples of the transformative power of women's leadership in higher education at all types of institutions. Beyond detailing familiar and persistent barriers that have slowed women's progress at the highest levels in the academy, the authors showcase models for reforming institutional and organizational cultures in ways that promote structural change and value women's authentic leadership styles."
— Lynn Pasquerella

"With these profiles of twelve extraordinary women, we gain rich, new insights into the myriad ways they both navigated—and transformed—higher education. Profoundly idealistic—and profoundly pragmatic—they are the role models we need at a time when women still have yet to win their fair share of top leadership roles. Read this book for its powerful lessons—and equally powerful inspiration."
— Paula A. Johnson

"A seminal and impressively informative work of outstanding and meticulous scholarship, Junctures in Women's Leadership: Higher Education is a thoughtful and thought-provoking read and will prove to be an especially and welcome addition to Women's Studies curriculum reading lists." 
— Midwest Book Review

"The volume succeeds in its aim to provide examples of women's leadership without essentialist understandings of a 'woman's approach.' One of the volume's strengths is the diversity of the women profiled and the variety of institutions they serve or served. It offers largely positive and sometimes glowing assessments of each woman profiled."
— Moveable Type