The Remembered and Forgotten Jewish World: Jewish Heritage in Europe and the United States (Paperback)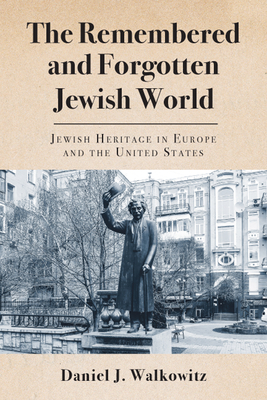 List Price: $34.95
Our Price: $19.95
(Save: $15.00 43%)
Description
---
In the late nineteenth and early twentieth centuries, the Jewish socialist movement played a vital role in protecting workers' rights throughout Europe and the Americas. Yet few traces of this movement or its accomplishments have been preserved or memorialized in Jewish heritage sites.
 
The Remembered and Forgotten Jewish World investigates the politics of heritage tourism and collective memory. In an account that is part travelogue, part social history, and part family saga, acclaimed historian Daniel J. Walkowitz visits key Jewish museums and heritage sites from Berlin to Belgrade, from Krakow to Kiev, and from Warsaw to New York, to discover which stories of the Jewish experience are told and which are silenced. As he travels to thirteen different locations, participates in tours, displays, and public programs, and gleans insight from local historians, he juxtaposes the historical record with the stories presented in heritage tourism.  What he finds raises provocative questions about the heritage tourism industry and its role in determining how we perceive Jewish history and identity. This book offers a unique perspective on the importance of collective memory and the dangers of collective forgetting.  
About the Author
---
DANIEL J. WALKOWITZ is emeritus professor of history and of social and cultural analysis at New York University.  An influential labor and urban historian, his many books include City Folk: English Country Dance and the Politics of the Folk in America.
 
Praise For…
---
"Daniel Walkowitz takes us on a set of journeys, which eloquently connect tourism, family, migration, and the constant remaking of Jewish history through lived life."
— Hasia R. Diner

"A Jewish heritage tour guide like no other, Walkowitz journeys into places hidden by time and all-too-familiar narratives to open possibilities for thinking, writing and remembering a diverse, often paradoxical and always richly complex Jewish past."
— Alisse Waterston

"Intimately personal and universal. Passionate in argument and crystal clear in analysis. This is the best history, memory and heritage studies offers. And the best book on Jewish heritage tourism I have ever read."
— Marcin Wodzinski

"Recommended."
— Choice

"Why Don't American Jews Search for their Heritage in New York City?" by Daniel J. Walkowitz
— Zócalo Public Square

"Does focus on Holocaust tourism dim the memory of vibrant prewar Jewish life?" by J.P. O'Malley
— Times of Israel

"[The book] makes a significant contribution insofar as it challenges, to return to my opening remarks, the long-standing, lachrymose approach to the study of Jewish history––and not just of Jewish history but of history itself....Walkowitz has written a stimulating book that will be of interest to historians in memory, museum, and Jewish studies." 
— American Historical Review