Hawking Women: Falconry, Gender, and Control in Medieval Literary Culture (Interventions: New Studies Medieval Cult) (Hardcover)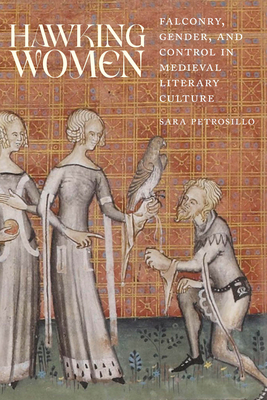 This item is backordered and not currently available. Please contact us for an estimated availability date.
Description
---
While critical discourse about falconry metaphors in premodern literature is dominated by depictions of women as unruly birds in need of taming, women in the Middle Ages claimed the symbol of a hawking woman on their personal seals, trained and flew hawks, and wrote and read poetic texts featuring female falconers. Sara Petrosillo's Hawking Women demonstrates how cultural literacy in the art of falconry mapped, for medieval readers, onto poetry and challenged patriarchal control. Examining texts written by, for, or about women, Hawking Women uncovers literary forms that arise from representations of avian and female bodies. Readings from Sir Orfeo, Chrétien de Troyes, Guillaume de Machaut, Chaucer's Troilus and Criseyde, and hawking manuals, among others, show how female characters are paired with their hawks not to assert dominance over the animal but instead to recraft the stand-in of falcon for woman as falcon with woman. In the avian hierarchy female hawks have always been the default, the dominant, and thus these medieval interspecies models contain lessons about how women resisted a culture of training and control through a feminist poetics of the falconry practice.
About the Author
---
Sara Petrosillo is Assistant Professor of English at the University of Evansville.
Praise For…
---
"Falconry in Hawking Women touches on so many topics: the strange intimacies of memory training that bonded a bird with its handler, gender hierarchies, and especially the entangled freedom and constraint of poetics. Petrosillo's rich practical knowledge of the sport illuminates a key component of medieval literature." —Karl Steel, author of How to Make a Human: Animals and Violence in the Middle Ages

"Petrosillo offers lively and fresh readings of familiar texts, demonstrating that the established analogy of hawks and women as seen in medieval romances has been too easily read as simple allegory, and in fact the power relations between falconer and bird offer more scope for female agency than hitherto acknowledged." —Gillian Rudd, author of Greenery: Ecocritical Readings of Late Medieval English Literature