The Golem Redux: From Prague to Post-Holocaust Fiction (Paperback)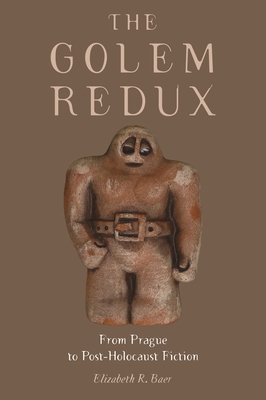 This item is backordered and not currently available. Please contact us for an estimated availability date.
Description
---
First mentioned in the Book of Psalms in the Hebrew Bible, the golem is a character in an astonishing number of post-Holocaust Jewish-American novels and has served as inspiration for such varied figures as Mary Shelley's monster in her novel Frankenstein, a frightening character in the television series The X-Files, and comic book figures such as Superman and the Hulk. In The Golem Redux: From Prague to Post-Holocaust Fiction, author Elizabeth R. Baer introduces readers to these varied representations of the golem and traces the history of the golem legend across modern pre- and post-Holocaust culture. In five chapters, The Golem Redux examines the different purposes for which the golem has been used in literature and what makes the golem the ultimate text and intertext for modern Jewish writers.
Baer begins by introducing several early manifestations of the golem legend, including texts from the third and fourth centuries and from the medieval period; Prague's golem legend, which is attributed to the Maharal, Rabbi Judah Loew; the history of the Josefov, the Jewish ghetto in Prague, the site of the golem legend; and versions of the legend by Yudl Rosenberg and Chayim Bloch, which informed and influenced modern intertexts. In the chapters that follow, Baer traces the golem first in pre-Holocaust Austrian and German literature and film and later in post-Holocaust American literature and popular culture, arguing that the golem has been deployed very differently in these two contexts. Where prewar German and Austrian contexts used the golem as a signifier of Jewish otherness to underscore growing anti-Semitic cultural feelings, post-Holocaust American texts use the golem to depict the historical tragedy of the Holocaust and to imagine alternatives to it. In this section, Baer explores traditional retellings by Isaac Bashevis Singer and Elie Wiesel, the considerable legacy of the golem in comics, Michael Chabon's The Amazing Adventures of Kavalier and Clay, and, finally, "Golems to the Rescue" in twentieth- and twenty-first-century works of film and literature, including those by Cynthia Ozick, Thane Rosenbaum, and Daniel Handler. By placing the Holocaust at the center of her discussion, Baer illustrates how the golem works as a self-conscious intertextual character who affirms the value of imagination and story in Jewish tradition. Students and teachers of Jewish literature and cultural history, film studies, and graphic novels will appreciate Baer's pioneering and thought-provoking volume.