Handbook of Posttraumatic Stress: Psychosocial, Cultural, and Biological Perspectives (Paperback)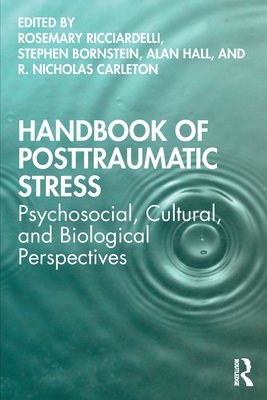 This item is backordered and not currently available. Please contact us for an estimated availability date.
Description
---
The Handbook of Posttraumatic Stress provides a comprehensive review of posttraumatic stress in its multiple dimensions, analyzing causation and epidemiology through prevention and treatment.
Written by a diverse group of scholars, practitioners, and advocates, the chapters in this book seek to understand the history, the politics, and the biological, psychological, and social processes underlying posttraumatic stress disorder (PTSD). Featuring studies that focus on some of the most seriously affected occupational groups, the text examines topics such as how individuals experience PTSD in different work settings and the complexities of diagnosis, treatment, and recovery for those workers and their families. Together, the contributions provide an in-depth examination of the current understood causes, impacts, and treatments of and for posttraumatic stress, mobilizing academic, administrative, and clinical knowledge, and lived experience to inform ongoing and future work in the field.
Drawing from range of different topics, fields of study, and research methods, this text will appeal to readers across medical, mental health, and academic disciplines.
About the Author
---
Rosemary Ricciardelli, PhD, is professor of sociology and criminology at Memorial University Newfoundland, Canada. Elected to the Royal Society of Canada, her research centers on evolving understandings of gender, vulnerabilities, risk, and experiences and issues within different facets of the criminal justice system. Stephen Bornstein, PhD, is a political scientist and is the director of the Newfoundland and Labrador Centre for Applied Health Research at Memorial University Newfoundland, Canada. He has served as the co‐director of the SafetyNet Centre for Occupational Health and Safety Research at Memorial and the assistant deputy minister of Intergovernmental Affairs in the government of the province of Ontario, Canada.Alan Hall, PhD, retired from his full‐time position in the sociology department at Memorial University Newfoundland, Canada in 2019. He now has an honorary research professorship with Memorial and is currently involved in research on the role of worker participation in workplace COVID‐19 safety plans. R. Nicholas Carleton, PhD, is a professor of psychology and scientific director for the Canadian Institute for Public Safety Research and Treatment. He is well published with several prestigious awards and substantial research funding.