Weeds of the South (Paperback)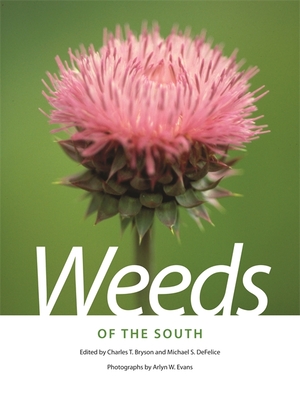 $53.99

Warehouse, In Stock | Usually Ships in 1-5 Days | New
Description
---
Weeds threaten the safe, efficient, and sustainable production of food, feed, fiber, and biofuel throughout the world. Featuring more than fifteen hundred full-color photographs, this handy guide provides essential information on four hundred of the most troublesome weedy and invasive plants found in the southern United States.
Drawing on the expertise of more than forty weed scientists and botanists, the guide identifies each plant at various stages of its life and offers useful details about its origin, habitat, morphology, biology, distribution, and known toxic properties. The book also includes illustrations of the most common characteristics of plants and the terms used to describe them, a key to plant families, a glossary of frequently used terms, a bibliography, and an index of scientific and common plant names. Each species account includes: Up to four full-color photographs showing seed, seedling, plant, flower, and other unique plant featuresDistribution mapFor grasses, a line drawing of the collar (where the leaf joins the stem), an important identifying characteristicScientific names, common names, and local synonyms of common namesVegetative characteristics for seedlings and leavesSpecial identifying features, reproductive characteristics, and toxic properties States covered (species distribution maps also show occurrences across the United States and Canada): AlabamaArkansasFloridaGeorgiaKentuckyLouisianaMarylandMississippiMissouriNorth CarolinaOklahomaSouth CarolinaTennesseeTexasVirginiaWest Virginia
About the Author
---
Charles T. Bryson (Editor) CHARLES T. BRYSON is a research botanist for the United States Department of Agriculture-Agricultural Research Service at the Southern Weed Science Research Unit in Stoneville, Mississippi. Michael S. DeFelice (Editor) MICHAEL S. DeFELICE is a senior manager at Pioneer Hi-Bred International, Inc.
Praise For…
---
"Weeds of the South is a 'must-have' for plant taxonomists, weed science students and practitioners, crop consultants, and natural world enthusiasts interested in the flora of the region. Outstanding photography and plant characteristics make for easy identification and classification of weeds."--Robert M. Hayes, Past President of Southern Weed Science Society

"Cleanly formatted through years of endeavor, Weeds of the South is straight-forward and concise, and it provides an invaluable weed key to the Family level. This comprehensive and detailed identification guide, with its unsurpassed imagery and illustrations, will benefit southern weed scientists, crop and land managers, students, and botanists for decades."--James H. Miller, coauthor of Forest Plants of the Southeast and Their Wildlife Uses

"Weeds of the South is quite honestly the best publication of its type that I have seen. It brings together a superb combination of information on plant history, preferred habitat, North American distribution, and identification characteristics that is par excellence. The quality of the photographs alone makes this book well worth owning, and the key has been specifically created for those plants in this publication, making it well suited for anyone in the southeastern United States"--David Shaw, President of the Weed Science Society of America

"The strengths of the book include the highest quality images I have ever seen in a book of this type, combined with concise taxonomic and botanical descriptions. Professionals interested in weed ID should have this book on their shelf or in their truck."--Tom Mueller, Professor, Weed Science, University of Tennessee

"This book is a valuable resource not only for those that deal with agricultural weeds, but for land managers, students, professional botanists, and others interested in the growing problem of invasive species across the landscape."—Castanea