Picnic, Lightning (Pitt Poetry Series) (Paperback)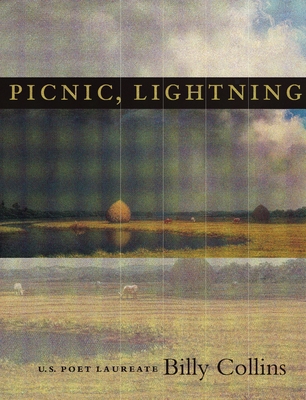 List Price: $18.00
Our Price: $15.30
(Save: $2.70 15%)
Warehouse, In Stock | Usually Ships in 1-5 Days | New
Description
---
Winner of the 1999 Paterson Poetry Prize

Over the past decade, Billy Collins has emerged as the most beloved American poet since Robert Frost, garnering critical acclaim and broad popular appeal. Annie Proulx admits, "I have never before felt possessive about a poet, but I am fiercely glad that Billy Collins is ours." John Updike proclaims his poems "consistently startling, more serious than they seem, they describe all the worlds that are and were and some others besides."

This special, limited edition celebrates Billy Collins's years as U.S. Poet Laureate. Picnic, Lightning--one of the books that helped establish and secure his reputation and popularity during the 1990s--combines humor and seriousness, wit and sublimity. His poems touch on a wide range of subjects, from jazz to death, from weather to sex, but share common ground where the mind and heart can meet. Whether reading him for the first time or the fiftieth, this collector's edition is a must-have for anyone interested in the poet the New York Times calls simply "the real thing."
About the Author
---
Billy Collins, named U.S. Poet Laureate in June 2001 and reappointed to the post in 2002, has published many collections of poetry, including  The Apple That Astonished Paris; Nine Horses; The Art of Drowning; Picnic, Lightning; Questions about Angels; and Sailing Alone Around the Room. A professor of English at Lehman College of the City University of New York, he lives in Somers, New York.
Praise For…
---
"Billy Collins writes lovely poems—lovely in a way almost nobody's since Roethke's are. Limpid, gently and consistently startling, more serious than they seem, they describe all the worlds that are and were and some others besides."
--John Updike
"The easy swing of Collins's lines reflect his love of jazz and his ready response to beauty; the warmth of his voice emanates from his instinct for pleasure and his propensity toward humor. . . . Collins is jazzman and Buddhist, charmer and prince."
--Booklist
"Billy Collins writes a kind of poetry that is . . . graceful, inviting, generous-hearted, able to treat engagingly of life's pleasures as well as its pain. . . . entering a poem by Mr. Collins is like entering a comfortable yet beautifully appointed guet room; for the time being, it will give you all that you need."
—The Washington Times
"These are wonderful poems and he's one of our best poets."
—American Poet
 "Billy Collins's poetry is heartbreakingly beautiful. It is also wise, funny, and brilliant. My ten favorites keep shifting all the time. Ovid is in again; so is Billy Collins."
—Gerald Stern
"Billy Collins, America's poet laureate, 'hits you between the eyes' with his 'twisted' take on everyday life."
—U.S. News & World Report
"I have never before felt possessive about a poet, but I am fiercely glad that Billy Collins is ours—smart, his strings tuned and resonant, his wonderful eye looping over the things, events and ideas of the world, rueful, playful, warm-voiced, easy to love."
—E. Annie Proulx