Jewels, Jewelry, and Other Shiny Things in the Buddhist Imaginary (Hardcover)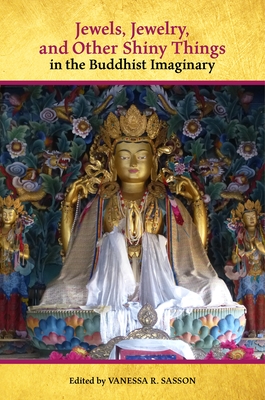 $82.80
This item is backordered and not currently available. Please contact us for an estimated availability date.
Description
---
Renunciation is a core value in the Buddhist tradition, but Buddhism is not necessarily austere. Jewels--along with heavenly flowers, rays of rainbow light, and dazzling deities--shape the literature and the material reality of the tradition. They decorate temples, fill reliquaries, are used as metaphors, and sprout out of imagined Buddha fields. Moreover, jewels reflect a particular type of currency often used to make the Buddhist world go round: merit in exchange for wealth. Regardless of whether the Buddhist community has theoretically transcended the need for them or not, jewels--and the paradox they represent--are everywhere. Scholarship has often looked past this splendor, favoring the theory of renunciation instead, but in this volume, scholars from a wide range of disciplines consider the role jewels play in the Buddhist imaginary, putting them front and center for the first time.
Following an introduction that relates the colorful story of the Emerald Buddha, one of the most famous jewels in the world, chapters explore the function of jewels as personal identifiers in Buddhist and other Indian religious traditions; Buddhaghosa's commentary on the Jewel Sutta; the paradox of the Buddha's bejeweled status before and after renunciation; and the connection in early Buddhism between jewels, magnificence, and virtue. The Newars of Nepal are the focus of a chapter that looks at their gemology and associations between gems and celestial deities. Contributors analyze the Fifth Dalai Lama's reliquary, known as the "sole ornament of the world"; the transformation of relic jewels into precious substances and their connection to the Piprahwa stupa in Northern India and the Nanjing Porcelain Pagoda. Final chapters offer detailed studies of ritual engagement with the deity known as Wish-Fulfilling Jewel Avalokiteśvara and its role in the new Japanese lay Buddhist religious movement Shinnyo-en. Engaging and accessible, Jewels, Jewelry, and Other Shiny Things in the Buddhist Imaginary will provide readers with an opportunity to look beyond a common misconception about Buddhism and bring its lived tradition into wider discussion.
About the Author
---
Vanessa R. Sasson is professor of religious studies in the Liberal Arts Department, Marianopolis College, Quebec.