The JPS B'nai Mitzvah Torah Commentary (JPS Study Bible) (Paperback)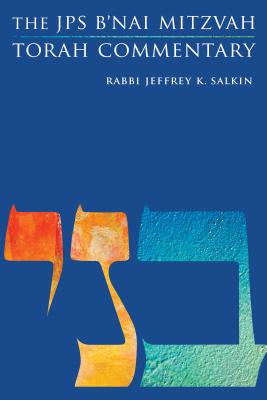 List Price: $29.95
Our Price: $25.46
(Save: $4.49 15%)
Warehouse, In Stock | Usually Ships in 1-5 Days | New
Description
---
For too many Jewish young people, bar/bat mitzvah has been the beginning of the end of their Jewish journeys. When students perceive the Torah as incomprehensible or irrelevant, many form the false impression that Judaism has nothing to say to them.

Enter the game-changer: the JPS B'nai Mitzvah Torah Commentary shows teens in their own language how Torah addresses the issues in their world. The conversational tone is inviting and dignified, concise and substantial, direct and informative. The narrative summaries, "big" ideas, model divrei Torah, haftarot commentaries, and discussion questions will engage teens in studying the Torah and haftarot, in writing divrei Torah, and in continuing to learn Torah throughout their lives—making it the book every rabbi, cantor, parent, and tutor will also want to have.

Jewish learning—for young people and adults—will never be the same. 

Weekly portion pamphlets are now available for every parasha of The JPS B'nai Mitzvah Torah Commentary!
About the Author
---
Rabbi Jeffrey K. Salkin serves as the senior rabbi of Temple Solel in Hollywood, Florida. He is the author of Putting God on the Guest List: How to Reclaim the Spiritual Meaning of Your Child's Bar or Bat Mitzvah, winner of the 1993 Benjamin Franklin Award for the best religion book published in the United States, and The Gods Are Broken: The Hidden Legacy of Abraham (JPS, 2013). 
Praise For…
---
"Jeffrey Salkin's JPS B'nai Mitzvah Torah Commentary is sure to usher in a new era of Torah study for our young students."—Mark Glickman, CCAR Journal

"However accomplished the delivery of the dvar Torah on the big day, its true value lies in its preparation. . . . A useful resource for parents who want to discuss their children's bar/batmitzvah portion with them. And more broadly, if you think by the end of their bnei-mitzvah programme teenagers should be familiar with at least the name of every sidrah in the Torah and the basic contents of each then Rabbi Salkin's book may help them towards a working knowledge."—Simon Rocker, Jewish Chronicle

"At thirteen years of age, or any age for that matter, putting together a D'var Torah can be an overwhelming experience. Rabbi Salkin provides everything necessary to take on the task. . . . Highly accessible, informative, and engaging, this is an extraordinary reference source for anyone working with Bar or Bat Mitzvah students, as well as anyone needing to explore the writing of a D'var Torah."—Kathy Bloomfield, Association of Jewish Libraries Reviews

"An excellent resource for students preparing for their b'nai mitzvah or as a text for classes studying the portion of the week. While aimed at teenagers, Salkin offers insights that many adults will also appreciate. His commentary would make a great addition to every synagogue library."—Rabbi Rachel Esserman, Reporter Group

"This is a fantastic resource . . . clear, coherent, and easy to understand. It encourages readers to grapple with real issues in the Bible that are relevant to them. It will be incredibly valuable not only to teens preparing to become bar/bat mitzvah but also to adults in navigating, challenging, and connecting to the biblical text."—Rabbi Danielle G. Eskow, co-founder of onlinejewishlearning.com
 

"Rabbi Jeff Salkin has enabled b'nai mitzvah to learn and teach Torah with a commentary that is wise, helpful, and brilliantly clear."—Rabbi David Wolpe, senior rabbi at Sinai Temple, Los Angeles, and author of David, the Divided Heart
 

"This is fantastic! It's a game-changer for b'nai mitzvah, their parents and teachers. Salkin's fresh insights remind us how transformative this experience can be."—Rabbi Aaron Miller, Washington Hebrew Congregation
 

"A student just came in to pick her verses for next year's reading of Tsav, arguably the least accessible of all Torah portions for a twelve-year-old to think about. Grabbing the JPS B'nai Mitzvah Torah Commentary off the shelf, I reviewed the Tsav summary and 'high points' with her, and she really came to life, quickly picking her verses of interest. Rabbi Jeffrey Salkin's scholarship is really a gift to us."—Rabbi Sim Glaser, Temple Israel in Minneapolis
 
 

"This is a new approach to Jewish learning and is very welcome. I cannot think of a better gift for a young person who takes his place as an adult in the Jewish community."—Reviews by Amos Lassen