The Zionist Ideas: Visions for the Jewish Homeland—Then, Now, Tomorrow (JPS Anthologies of Jewish Thought) (Paperback)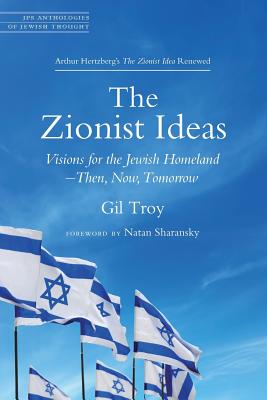 $40.19

Warehouse, In Stock | Usually Ships in 1-5 Days | New
Description
---
The most comprehensive Zionist collection ever published, The Zionist Ideas: Visions for the Jewish Homeland—Then, Now, Tomorrow sheds light on the surprisingly diverse and shared visions for realizing Israel as a democratic Jewish state. Building on Arthur Hertzberg's classic, The Zionist Idea, Gil Troy explores the backstories, dreams, and legacies of more than 170 passionate Jewish visionaries—quadruple Hertzberg's original number, and now including women, mizrachim, and others—from the 1800s to today.

Troy divides the thinkers into six Zionist schools of thought—Political, Revisionist, Labor, Religious, Cultural, and Diaspora Zionism—and reveals the breadth of the debate and surprising syntheses. He also presents the visionaries within three major stages of Zionist development, demonstrating the length and evolution of the conversation. Part 1 (pre-1948) introduces the pioneers who founded the Jewish state, such as Herzl, Gordon, Jabotinsky, Kook, Ha'am, and Szold. Part 2 (1948 to 2000) features builders who actualized and modernized the Zionist blueprints, such as Ben-Gurion, Berlin, Meir, Begin, Soloveitchik, Uris, and Kaplan. Part 3 showcases today's torchbearers, including Barak, Grossman, Shaked, Lau, Yehoshua, and Sacks.

This mosaic of voices will engage equally diverse readers in reinvigorating the Zionist conversation—weighing and developing the moral, social, and political character of the Jewish state of today and tomorrow.
 
About the Author
---
Gil Troy is Distinguished Scholar of North American History at McGill University. A columnist for the Jerusalem Post and the Daily Beast, he has authored twelve books, including Moynihan's Moment: America's Fight against Zionism as Racism and Why I Am a Zionist. Natan Sharansky is former deputy prime minister of Israel and chairman of the Jewish Agency for Israel.
Praise For…
---
"The Zionist Ideas: Visions for the Jewish Homeland–Then, Now, Tomorrow . . . takes a comprehensive approach to unpacking the challenges modern Zionism faces, while simultaneously expanding on the virtues of Jewish self-determination."—Daniel J. Roth, Jerusalem Post

"Troy has done an extraordinary job in explaining the Zionist ideas that co-exist within Jewish life. As the subtitle puts it, this book explains the Zionism of the past, the debates going on in the present, and the visions of the future that occupy the minds and hearts of Zionists. Like Hertzberg's original book, it explains and it inspires."—Jack Riemer, Jewish Advocate

"Troy has delivered an anthology that will give us plenty to argue about for years to come."—Elliot Jager, Jerusalem Report

"Even within our relatively small community, we too often speak to only those who agree with us. No one is better positioned to change this reality than Natan Sharansky, the universally beloved hero of the Jewish people, and Gil Troy, an academic respected equally in Israel and North America, and whose book The Zionist Ideas should be standard fare at every synagogue, JCC, and day school, and given as a gift to every b'nai mitzvah."—Eric Fingerhut, Times of Israel Blog

"An excellent cross-section of Zionist thought, ideology and popular culture as well, and a worthy update of Hertzberg's masterpiece. . . . Troy's volume will help us make sense of an increasingly chaotic Zionist world."—Jerome A. Chanes, New York Jewish Week

"Reading this is like being on a tour of Zionist thought that Troy is leading us through as he analyzes Zionism's evolution from its early ideology as a national movement to its development of its own."—Reviews by Amos Lassen

"The Zionist Ideas is an important update and essential addition to every Jewish studies library. The wealth of ideas found between its pages gives the reader an extraordinary opportunity to explore how his or her own thinking can fit into the spectrum of Zionist thought. Troy's update has revitalized Hertzberg's groundbreaking work and opened a new opportunity for conversation about Zionism and the central place of Israel in Jewish life."—Jonathan Fass, Jewish Book Council

"Building on Arthur Hertzberg's classic, The Zionist Idea, Troy explores the backstories, dreams, and legacies of more than 170 passionate Jewish visionaries from the 1800s to today."—Algemeiner

"At its core, Troy's anthology is an invitation to readers to consider what it means to be a Zionist, especially in the 21st century."—Jay P. Lefkowitz, Commentary

"Instead of replacing Hertzberg, Troy's book will sit neatly on the shelf next to the original. Together, they are the essential primary sources for understanding the complex foundations of Israel and its meaning in the 21st century. Students will be reaching for both of them for a long time to come."—nealgold.net