The Messiah Confrontation: Pharisees versus Sadducees and the Death of Jesus (Hardcover)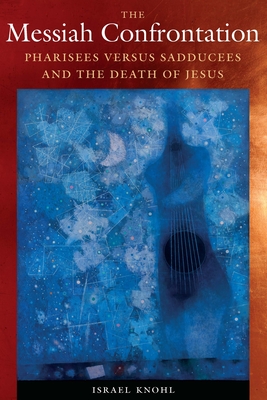 List Price: $29.95
Our Price: $25.46
(Save: $4.49 15%)
Warehouse, In Stock | Usually Ships in 1-5 Days | New
Description
---
The Messiah Confrontation casts new and fascinating light on why Jesus was killed. 

Grounded in meticulous research on the messianism debates in the Bible and during the Second Temple period, biblical scholar Israel Knohl argues that Jesus's trial was in reality a dramatic clash between two Jewish groups holding opposing ideologies of messianism and anti-messianism, with both ideologies running through the Bible. The Pharisees (forefathers of the rabbinic sages) and most of the Jewish people had a conception of a Messiah similar to Jesus: like the prophets and most psalmists, they expected the arrival of a godlike Messiah. However, the judges who sentenced Jesus to death were Sadducees, who were fighting with the Pharisees largely because they repudiated the Messiah idea. Thus, the trial of Jesus was not a clash between Jewish and what would become Christian doctrines but a confrontation between two internal Jewish positions—expecting a Messiah or rejecting the Messiah idea—in which Jesus and the Pharisees were actually on the same side.

Knohl contends that had the assigned judges been Pharisees rather than Sadducees, Jesus would not have been convicted and crucified. The Pharisees' disagreement with Jesus was solely over whether Jesus was the Messiah—but historically, for Jews, arguing about who was or wasn't the Messiah was not uncommon.

The Messiah Confrontation has far-reaching consequences for the relationship between Christians and Jews.
About the Author
---
Israel Knohl is Yehezkel Kaufmann Professor of Bible Studies emeritus at the Hebrew University–Jerusalem and a senior fellow at the Shalom Hartman Institute in Jerusalem. He is the author of The Divine Symphony: The Bible's Many Voices (JPS, 2003), The Sanctuary of Silence: The Priestly Torah and the Holiness School, and The Messiah before Jesus: The Suffering Servant of the Dead Sea Scrolls. Knohl has taught at Harvard University, Stanford University, the University of California–Berkeley, and the Chicago Divinity School. 
 
 
Praise For…
---
"Knohl suggests that Jesus would not have been convicted and executed if tried by Pharisees instead of Sadducees. Accessible prose makes parsing scriptural texts and placing them in historical and political context enthralling, even for those unfamiliar with biblical criticism. This thought-provoking work fascinates."—Publishers Weekly, starred review

"This book really is a gift to those of us who wish to pursue Jewish-Christian dialog that allows for a conversation about Jesus. His book also helps us read the New Testament and its descriptions of the various religious parties and their interactions with early Christians. As such, The Messiah Confrontation offers us a helpful guide to the roots of Jesus' own sense of calling and purpose, while allowing us to embrace the Jewish roots of the Christian faith more fully (especially the Pharisaic ones, to rehabilitate the Pharisees in the eyes of Christians)."—Word&Way

"For Christians, rejecting the theological anti-Jewishness of their own tradition and embracing the Jewishness of Jesus require radical revisions of basic understandings. The Messiah Confrontation moves this project forward by showing that the defining conflict leading to the death of Jesus took place within Judaism, not against it. Knohl's bold analysis is compelling, illuminating, and important for Christian and Jewish readers alike."—James Carroll, author of Constantine's Sword

"A fascinating interpretation of two strands of biblical thought that developed over a millennium and collided in the trial of a Jew named Jesus of Nazareth. Erudite and a page-turner."—Ronald Hendel, Norma and Sam Dabby Professor of Hebrew Bible and Jewish Studies, University of California–Berkeley

"The Messiah Confrontation is the product of meticulous research yet it takes away one's breath. It can be seen as a key that allows us to understand messianic phenomena hundreds of years after the writing of biblical literature, and in reality until this very day. Knohl lays the foundation for the development of a narrative that allows us to classify, categorize, and evaluate key events throughout Jewish history in light of messianic tension. In essence, it provokes the reader and the scholar to develop a new narrative of Jewish history—one based entirely on the tensions between different messianic ideas."—Dov Schwartz, professor of Jewish philosophy, Bar Ilan University

"Knohl not only documents a series of transformations in Israelite messianism but also meticulously discusses their political ramifications. This thought-provoking work is a must-read for anyone interested in the biblical world as well as in Jewish thought and politics throughout history."—Ishay Rosen-Zvi, chair of the Department of Jewish Philosophy and Talmud, Tel Aviv University

"In The Messiah Confrontation, Israel Knohl, one of the leading Bible scholars of our time, proposes an original and provocative history of messianism from the Bible through ancient Judaism, culminating in a new interpretation of the trial and death of Jesus. This profoundly learned and accessibly written book will be of great interest to scholars and laypersons alike, and especially to all readers concerned with the fraught history of Judaism and Christianity and their many intersections."—David Stern, Harry Starr Professor of Classical and Modern Hebrew and Jewish Literature, Harvard University