Do Remember!: The Golden Era of NYC Hip-Hop Mixtapes (Hardcover)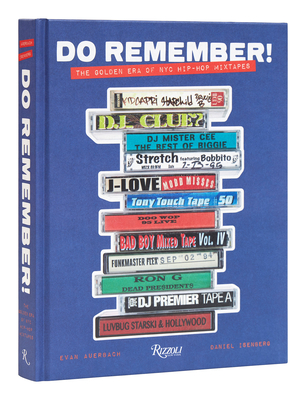 List Price: $45.00
Our Price: $38.25
(Save: $6.75 15%)
Warehouse, In Stock | Usually Ships in 1-5 Days | New
Description
---
Do Remember! The Golden Era of NYC Hip-Hop Mixtapes is the first comprehensive deep-dive oral and visual history of the golden era of hip-hop mixtape culture in New York City.

From street corners to corner offices, mixtapes made a huge impact on the music industry and hip-hop culture in New York City during the late '80s, '90s, and early 2000s. Mixtapes helped dictate what rap songs were hot in the clubs, on the radio, and in the streets, and they influenced which artists would get signed to record deals. Mixtapes also showcased which DJs had the most skills and creativity, and who had the juice to pull the illest exclusives.

Do Remember! combines the best elements of oral and pictorial histories to explore the evolution of mixtapes as a crucial component of New York City hip-hop culture. Featuring a comprehensive collection of rare mixtape cover art, never-before-seen images, vintage tracklists, and exclusive interviews with Kid Capri, Brucie B, Mister Cee, Ron G, S&S, Doo Wop, Green Lantern, Lord Finesse, Clark Kent, Bobbito, Cipha Sounds, Havoc of Mobb Deep, the late, great DJ Kay Slay, and many more, including a special foreword by Fab 5 Freddy, Do Remember! captures an era in New York City that went on to inspire future hip-hop generations all over the world.
About the Author
---
Evan Auerbach is a globally recognized hip-hop historian. His career as a blogger and archivist has made him the number one source for providing rare hip-hop memorabilia to the masses. A walking encyclopedia of rap knowledge, Evan has played an essential role in revitalizing music media's nostalgia for 90s ephemera and landmark hip-hop events. His website UpNorthTrips continues to be pivotal in sparking a modern wave of obsession with rare photos, classic hip-hop flyers, promo material, and posters. In 2016, Evan co-authored No Sleep: Nightlife Flyers (1988–1999) with Stretch Armstrong.
Daniel Isenberg is a seasoned hip-hop journalist who has written for Complex, Def Jam, Pitchfork, Pigeons & Planes, and XXL, and who created the NahRight Mixtape Memories blog series highlighting legendary mixtape DJs and moments. Isenberg is also an award-winning sports and entertainment marketing creative director, a GRAMMY Award–nominated songwriter, and author of the children's hip-hop and sports-themed chapter book My Name Is Spit: The Dunk Dance.
Evan and Daniel are also co-teaching an NYU School of Professional Studies 'Real World' graduate school class, where students will spend the Fall '23 semester solving a business challenge connected to the marketing of three of Rizzoli's recent hip-hop titles, including Do Remember! The Golden Era of NYC Hip-Hop Mixtapes.
Praise For…
---
"With New York City's early mixtape subculture as its subject, Do Remember! is...deep in its exploration of hip-hop history. The book documents the evolution of the medium, the people involved, and the gray-market commerce that underpinned it...Through interviews with legendary and foundational D.J. talents like DJ Hollywood, Brucie B, Kid Capri, and DJ Kay Slay, we learn about the medium straight from these seldom-heard-from sources...[Auerbach and Isenberg] had the inclination to get into the weeds of the phenomenon, like a fan meticulously untangling a mangled tape because the music on it meant that much to them." — AIRMAIL
 
"[Do Remember!] explores the cassette era of mixtapes in NYC from the late '80 and '90s, but it also covers the switch to the CD format that occurred near the turn of the century and the early 2000s classics like of G-Unit, D-Block, and Dipset...the book also features exclusive discussions with Fab 5 Freddy, Kid Capri, Green Lantern, Havoc of Mobb Deep, and much more." — COMPLEX

"There's a slew of excellent books on hip hop this year as the genre celebrates its 50th anniversary — Do Remember! The Golden Age of NYC Mixtapes stands out for hardcore fan." — ESQUIRE

"As we celebrate the 50th anniversary of hip-hop this year, a new book aims to pay homage to the role mixtapes played in the emergence of the genre and the lasting impression they've left on it. Do Remember!: The Golden Era of NYC Hip-Hop Mixtapes brings together a comprehensive survey of rare tapes from the genre's birthplace, along with never-before-seen images, tracklists and artist interviews." — HYPEBEAST
 
"In their new book Do Remember!: The Golden Era of NYC Hip-Hop Mixtapes, authors Evan Auerbach and Daniel Isenberg trace the history of New York rap through its humblest and most world-alteringly important delivery system— the mixtape. As the legendary cultural ambassador Fab 5 Freddy notes in his introduction, hip-hop's global takeover began with cassette recordings of parties and live performances passed from hand to hand and hood to hood. By the early 20th century, cassettes had been supplanted by CDs and hip-hop was on its way to becoming a highly corporatized multi-billion-dollar industry— and superstar mixtape DJs like DJ Clue became all-important tastemakers, capable of shoring up a newly-mainstream rapper's street cred or signal-boosting an underground crew into the stratosphere." — GQ
 
"The informal cassette tapes that helped propel hip-hop to the American masses in the late 20th century are given their due in this collection of oral interviews and colorful visuals including rare cover art, vintage track lists and more." — THE NEW YORK TIMES

"Without mixtapes, the rise of hip-hop would be unimaginable. The historian Evan Auerbach and the journalist Daniel Isenberg offer their tribute in Do Remember! The Golden Era of NYC Hip-Hop Mixtapes...featuring profiles of figures who shaped an emerging ethos." —WSJ