Your Complete Guide to a Successful and Secure Retirement (Paperback)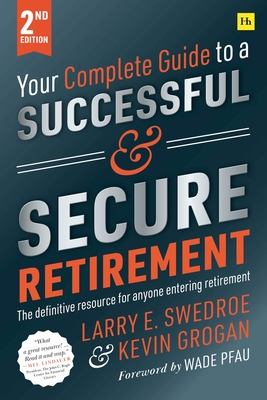 List Price: $18.99
Our Price: $16.14
(Save: $2.85 15%)
Description
---
Fully revised and updated second edition.

This is your one-stop, definitive resource as you prepare for a secure and comfortable retirement.

Investment and personal finance experts Larry Swedroe and Kevin Grogan present uniquely comprehensive coverage of every important aspect you need to think about as you approach retirement, including:

Social Security, Medicare, investment planning strategy, portfolio maintenance, preparing your heirs, retirement issues faced by women, the threat of elder financial abuse, going beyond financials to think about your happiness, and much more.

These topics are explained with the help of specialists in each subject. And everything is based on the "science of investing" – evidenced with studies from peer-reviewed journals.

Overall, this adds up to a complete retirement guide, packed with the latest and best knowledge. Don't enter your retirement without it.
About the Author
---
Larry E. Swedroe is the chief research officer for Buckingham Strategic Wealth and Buckingham Strategic Partners. Larry holds an MBA in finance and investments from New York University and a bachelor's degree in finance from Baruch College. Larry was among the first authors to publish a book that explained the science of investing in layman's terms, The Only Guide to a Winning Investment Strategy You'll Ever Need. He has since authored nine more books and co-authored seven books on investing and financial planning. His books have been published in seven languages. Larry is a prolific writer and contributes regularly to EvidenceInvestor.com, AdvisorPerspectives.com, and AlphaArchitect.com.

Kevin Grogan, CFA, CFP®, is director of investment strategy for Buckingham Strategic Wealth and The BAM ALLIANCE. Kevin holds an MBA from Saint Louis University and a bachelor's degree in finance from Missouri State University in Springfield. He co-authored the books "The Only Guide You'll Ever Need for the Right Financial Plan" and "Reducing the Risk of Black Swans," as well as the article "The Maturity of Fixed-Income Assets and Portfolio Risk" in The Journal of Investing with Larry Swedroe.