The Great Peshtigo Fire: Stories and Science from America's Deadliest Fire (Paperback)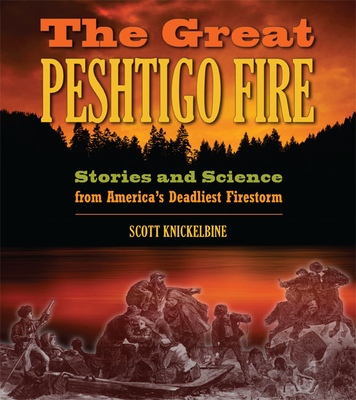 List Price: $15.95
Our Price: $13.56
(Save: $2.39 15%)
Description
---
On the night of October 8, 1871, a whirlwind of fire swept through northeastern Wisconsin, destroying the bustling frontier town of Peshtigo. Trees, buildings, and people burst into flames. Metal melted. Sand turned into glass. People thought the end of the world had come. When the "tornado of fire" was over, 2,500 people were dead, and Peshtigo was nothing but a smoking ruin. It was the deadliest wildfire in U.S. history.
The Great Peshtigo Fire: Stories and Science from America's Deadliest Firestorm explores the history, science, and legacy of the 1871 Peshtigo Fire at a fourth-grade reading level. Readers will learn about the history of settlement, agriculture, and forestry in 19th-century Wisconsin. This illuminating text covers a diverse range of topics that will enrich the reader's understanding of the Peshtigo Fire, including the building and land-use practices of the time that made the area ripe for such a fire, the weather patterns that fostered widespread fires throughout the upper Midwest in the summer and fall of 1871, and exciting first-person accounts that vividly bring the `victims' stories to life. Connections made between the Peshtigo Fire and the history of fire prevention in the United States encourage critical thinking about issues that remain controversial to this day, such as planned burns and housing development restrictions near forested areas. The Great Peshtigo Fire: Stories and Science from America's Deadliest Firestorm will inform and captivate its readers as it journeys through the horrifying history of the Peshtigo Fire.

About the Author
---
Scott Knickelbine has been writing about Wisconsin history since 1978, when he was coauthor of the historical radio series Neshota Sam. He is the author of more than 40 books, most of them historical nonfiction works for young readers. His work has appeared in hundreds of newspapers and magazines, and he has written more than 600 how-to articles for the Internet. He was born in Manitowoc, Wisconsin, and received his bachelor's degree in journalism from the University of Minnesota in 1981.
Praise For…
---
"Winner, Midwest Independent Publishers Association Midwest Books Awards (Children's Non-Fiction )"