Unveiling Inequality: A World-Historical Perspective (Paperback)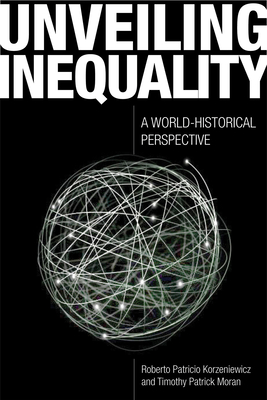 $40.19
This item is backordered and not currently available. Please contact us for an estimated availability date.
Description
---
Despite the vast expansion of global markets during the last half of the twentieth century, social science still most often examines and measures inequality and social mobility within individual nations rather than across national boundaries. Every country has both rich and poor populations making demands—via institutions, political processes, or even conflict—on how their resources will be distributed. But shifts in inequality in one country can precipitate accompanying shifts in another. Unveiling Inequality authors Roberto Patricio Korzeniewicz and Timothy Patrick Moran make the case that within-country analyses alone have not adequately illuminated our understanding of global stratification. The authors present a comprehensive new framework that moves beyond national boundaries to analyze economic inequality and social mobility on a global scale and from a historical perspective. Assembling data on patterns of inequality in more than ninety-six countries, Unveiling Inequality reframes the relationship between globalization and inequality within and between nations. Korzeniewicz and Moran first examine two different historical patterns—"High Inequality Equilibrium" and "Low Inequality Equilibrium"—and question whether increasing equality, democracy, and economic growth are inextricably linked as nations modernize. Inequality is best understood as a complex set of relational interactions that unfold globally over time. So the same institutional mechanisms that have historically reduced inequality within some nations have also often accentuated the selective exclusion of populations from poorer countries and enhanced high inequality equilibrium between nations. National identity and citizenship are the fundamental contemporary bases of stratification and inequality in the world, the authors conclude. Drawing on these insights, the book recasts patterns of mobility within global stratification. The authors detail the three principal paths available for social mobility from a global perspective: within-country mobility, mobility through national economic growth, and mobility through migration. Korzeniewicz and Moran provide strong evidence that the nation where we are born is the single greatest deter-mining factor of how we will live. Too much sociological literature on inequality focuses on the plight of "have-nots" in wealthy nations who have more opportunity for social mobility than even the average individual in nations perennially at the bottom of the wealth distribution scale. Unveiling Inequality represents a major paradigm shift in thinking about social inequality and a clarion call to reorient discussions of economic justice in world-historical global terms.
About the Author
---
ROBERTO PATRICIO KORZENIEWICZ is professor of sociology at the University of Maryland, College Park, and profesor titular at the Escuela de Política y Gobierno of the Universidad Nacional de San Martín (Argentina). TIMOTHY PATRICK MORAN is associate professor of sociology and director of Graduate Studies at State University of New York-Stony Brook