Tales of Nonsense and Tomfoolery (Books of Nine Lives #2) (Paperback)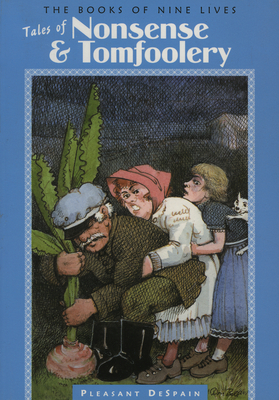 List Price: $11.95
Our Price: $10.16
(Save: $1.79 15%)
Other Books in Series
This is book number 2 in the Books of Nine Lives series.
Description
---
From the Books of Nine Lives series by award-winning author, Pleasant DeSpain. Every culture known to humankind has its fools, those well-meaning (yet bungling) folks who always manage to do the wrong thing, even though their hearts are in the right place. From stories of the fool, we learn how to avoid becoming one ourselves--as well as how to laugh at ourselves when the inevitable happens and we do something silly. The ten stories collected here deal with fools from around the world, including: "The Silly Farmer" from Ethiopia, "The Extraordinary Cat" from China, "The Bear Who Said North" from Finland, and "The Proud Fox" from the United States.Pleasant DeSpain is the author of numerous collections of multicultural stories, including the highly regarded Thirty-Three Multicultural Tales to Tell, Sweet Land of Story, and The Emerald Lizard. He has traveled all over the United States and the world, collecting stories to share with children and adults.
About the Author
---
Pleasant DeSpain Bio: Pleasant DeSpain has a most unusual but true name and an equally unusual but true profession - writer and storyteller. He travels the world collecting, researching, writing and retelling traditional tales from native cultures. Born in Colorado, he wrote his first original story at age eight. It was published as "The Mystery Artist" in 1996. Pleasant taught speech-literature-drama for six years at three universities, and wrote-produced-hosted an award-winning TV show called "Pleasant Journeys" on KING TV, Seattle. Now, the author of eighteen award-winning, multicultural story collections and picture books, published by August House, has a home in Troy, NY and frequently travels to spend extended periods of time in Thailand. Pleasant continues to travel the world having amazing adventures. While living in Thailand he has continued to collect more stories and is working on a new book.