Espresso (Paperback)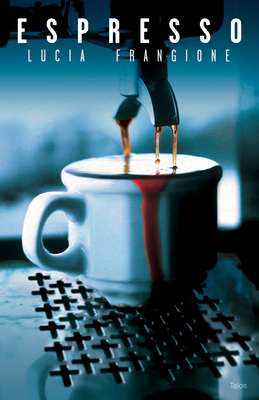 List Price: $16.95
Our Price: $14.41
(Save: $2.54 15%)
Warehouse, In Stock | Usually Ships in 1-5 Days | New
Description
---
Sexy, provocative and challenging, Espresso is a rich, dark, bitter hit of comedy and sensuality. One of Lucia Frangione's blasphemy plays, ' it inverts the Catholic stereotypes of feminine sexuality to boldly examine their corresponding masculine sexual emblems of Father, Son and Holy Ghost. In an erotic world where men are traditionally cast as either fathers to be looked up to or sons to be looked after, where, for women, is the possibility of a flesh-and-blood lover, challenging her to open her heart without trespassing her will--a lover as he appears in the Song of Solomon: passionate, earthy, creative, vulnerable and beautiful-- the avatar of the holy spirit? There has been a horrible car crash, and Vito, the patriarch of an immigrant family, has had his body smashed and his heart lacerated, his life hanging by threads of tubes and wires in an intensive care ward. His family has rushed in from all over the country for an anxious vigil of hope, prayer and memory by his bedside. In this crucible of anxiety, a single actress alternately narrates and enacts her own and her family's history along with an uninvited narrator/actor, Amante ("lover" in Italian). As Amante engages all the women of the clan Rosa plays in a swirl of sharply portrayed characters--Vito's mother, Nonna, forced into marriage at 13 but only now, at 67, experiencing the first intimations of her body's desire; the pit-bull martyrdom of Vito's second wife, Vincenza; and Rosa herself in her own thin, urbane skin stretched tight to hold in the red, passionate blood that boils just below the surface--we are never sure whether Rosa has created Amante or he has created her.
Cast of 1 woman and 1 man.
About the Author
---
Lucia FrangioneAward-winning playwright and actress Lucia Frangione is the recipient of the 2006 and 1998 Gordon Armstrong Playwright Awards and won the Sydney Risk playwright award for Cariboo Magi in 2001. Espresso was nominated for seven Jessie awards, toured Western Canada in 2004 and was translated into Polish and performed for a year at Teatr Jeleniogorski in 2007. Frangione has performed in her own plays to much acclaim, notably earning Jessie Richardson Award nominations for her leading performances in Holy Mo and Espresso as well as winning the CAEA Stage West National Acting Award in 2003.