Dynasty and Divinity: Ife Art in Ancient Nigeria (Paperback)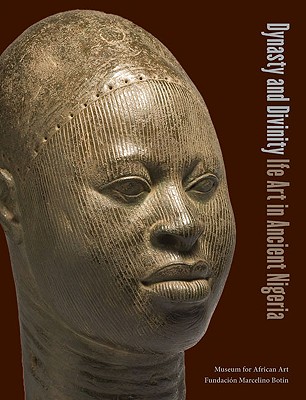 List Price: $40.00
Our Price: $34.00
(Save: $6.00 15%)
Description
---
Dynasty and Divinity presents a major part of the extraordinary corpus of ancient Ife art in terra-cotta, stone, and metal, dating from the ninth to the fifteenth centuries. Artists at Ife, the ancient city-state of the Yoruba people of West Africa (located in present-day southwestern Nigeria), created sculpture that ranks among the most aesthetically striking and technically sophisticated in the world. Dynasty and Divinity reveals the extraordinarily creative range of Ife art through a diversity of objects that includes handsome idealized portrait heads, exquisite miniatures, expressive caricatures of old age, lively animals, and sculptures showing the impressive regalia worn by Ife's kings and queens. Together, these illuminate one of the world's greatest art centers and demonstrate the technological sophistication of Ife artists, as well as the rich aesthetic language they developed in order to convey ideas about worldly and divine power.
The refined sculptures from Ife demonstrate the dignity and self-assurance associated with the idea of dynasty, as well as the results of misfortunes and violence that could befall human beings -- both fates shaped by divine as well as human interventions. Among the many masterpieces from Ife art in this book are a group of life-size copper portrait heads, carved stone animals, and the spectacular seated male figure found in the town of Tada, Nigeria, shown dressed in an elaborate textile. Essays explore the significance of Ife's stone, terra-cotta, and metal sculptures in the context of Yoruba history and culture and consider the significance of this portrayal of an ancient African city. Today, the city of Ife is still a spiritual heartland for the 29 million Yoruba people living in Nigeria and countless descendants in the Americas and elsewhere in the world.
Dynasty and Divinity accompanies an exhibition co-organized by the Museum for African Art, New York City, and the Fundacion Marcelino Botin, Santander, Spain, in collaboration with the National Commission for Museums and Monuments, Nigeria. The exhibition will appear at the British Museum, London, as Kingdom of Ife: Sculptures of West Africa.
About the Author
---
Henry John Drewal is Evjue-Bascom Professor of Art History and Afro-American Studies at the University of Wisconsin-Madison and adjunct curator of African art at the University's Chazen Museum of Art. Enid Schildkrout is chief curator and director of exhibitions and publications at the Museum for African Art and curator emeritus at the American Museum of Natural History.