We Fought for Freedom: The Story of Our American Revolution (Hardcover)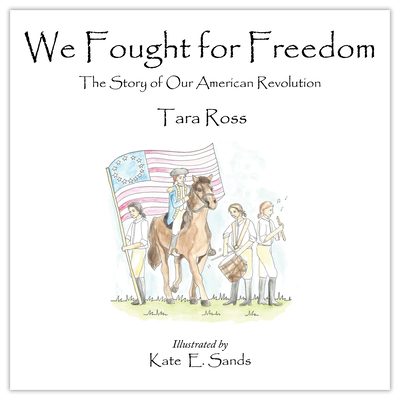 List Price: $18.95
Our Price: $16.11
(Save: $2.84 15%)
Warehouse, In Stock | Usually Ships in 1-5 Days | New
Description
---
"The Enemy have now landed on Long Island, and the hour is fast approaching, on which the Honor and Success of this army, and the safety of our bleeding Country depend. Remember officers and Soldiers, that you are Freemen, fighting for the blessings of Liberty." - George Washington, General Orders of August 23, 1776.

The American Revolution began in April 1775 and continued until a peace treaty was signed in September 1783. For eight long years, our ancestors fought, sacrificed, and persevered through difficulties that are hard for us to imagine today. "We fight get beat rise and fight again," one of George Washington's generals wrote towards the end of the war. Such determination and perseverance are integral to our heritage as Americans, yet school curricula too often fail to give more than a perfunctory look at the bravery of our founders. The task is admittedly difficult because the war was so long, and attention spans of children can be short. "We Fought for Freedom" tackles the challenge of teaching young children about America's fight for independence by dividing the Revolutionary War into 16 topics, each presented in chronological order and each as its own double-page spread. Presenting the Revolution in bite-size portions will help children remember the general Revolutionary War timeline and what its highlights were--and they can do it without memorizing a list of names and dates. "We Fought for Freedom" is beautifully illustrated by Kate E. Sands, and it provides an easy, fun way for children to learn about our rich American heritage.
About the Author
---
Tara Ross is the author of "She Fought, Too: Stories of Revolutionary War Heroines" (2019), "The Indispensable Electoral College: How the Founders' Plan Saves Our Country from Mob Rule" (2017), "We Elect A President: The Story of our Electoral College" (2016), and "Enlightened Democracy: The Case for the Electoral College" (2d ed. 2012). She is also a co-author of "Under God: George Washington and the Question of Church and State" (2008) (with Joseph C. Smith, Jr.). She is a retired lawyer and a former Editor-in-Chief of the Texas Review of Law & Politics.Kate E. Sands is the illustrator of "She Fought, Too: Stories of Revolutionary War Heroines" (2019) and "We Elect A President: The Story of our Electoral College" (2016). Kate graduated from the University of Notre Dame in 2020 with a B.A. in Mandarin and Political Science, then traveled to Taichung, Taiwan to pursue a Fulbright scholarship and further her training as a bilingual educator. Since returning to the United States, Kate loves her work as a Kindergarten teacher, Mandarin tutor, and artist.