Rebbe Nachman Says... The Teachings of Rabbi Nachman by Rabbi Shlomo Carlebach (Paperback)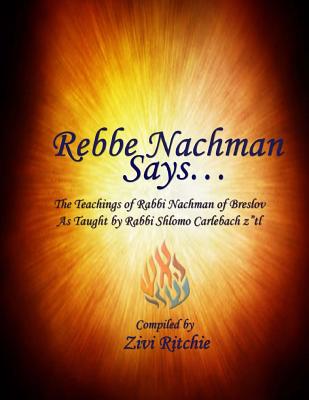 $10.00
This item is backordered and not currently available. Please contact us for an estimated availability date.
Description
---
"This book, in recording Rebbe Shlomo zatzal's teachings for posterity, shows how his every utterance was a holy niggun. We owe a deep note of gratitude to Zivi Ritchie for his wonderful work." -- Rabbi Lazer Brody - - - - - Finally the book we have been waiting for In this book you will learn how to find true happiness, meaning in life, and soul fulfillment. In this book Rebbe Nachmans deep teachings are explained by Rebbe Shlomo Carlebach in such a simple way that everyone can understand them. --- Quotes from inside the book: "Our holy master Rebbe Nachman says: The greatest gift we can give someone is to give him back his self confidence. When someone talks, he's using worldly tools. Singing, however, comes from the world which is beyond Creation. When someone is singing, you close your eyes, because singing is so heavenly. --- Sweetest friends, believe me... people who don't believe in G-d don't have joy. They have fun. But joy? No. --- Rebbe Nachman says, "Never give up.