Black Pearl and Kate: A Groundbreaking Prospecting Woman (Paperback)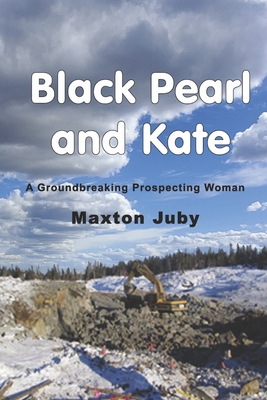 List Price: $9.95
Our Price: $8.46
(Save: $1.49 15%)
Warehouse, In Stock | Usually Ships in 1-5 Days | New
Description
---
This is the story, written in verse, of the life and times of prospector Kate Rice and her important role in finding gold in the Snow Lake, Manitoba area, which has led to various mining projects in the area including one known as Black Pearl Exploration.

Kate was born in 1880 in the town of St Mary's in Southern Ontario. She graduated from the University of Toronto with an Honours degree in mathematics and worked as a teacher for a few years. She was over six feet tall, and learned good bush skills and the Cree language, and went on to become a well-respected mineral prospector in Northern Manitoba. Most of her bush travelling was by canoe and on foot.

She took on a male prospecting partner, Richard "Dick" Woosey, who had served in the British army in India and in the Boer War, before moving to Canada. They lived together in a log cabin on an island on Wekusko Lake where they both fished, hunted, and prospected. He had a gold prospect that was sold but never made much money from this project. She had a nickel-copper prospect that International Nickel (Inco) optioned for $45,000 cash. One day in 1940, while having a haircut, her partner Woosey suddenly died from a heart attack. He was buried with a military funeral in The Pas, Manitoba.

She bravely continued alone in the north for several more years, before settling in a nursing home near Brandon Manitoba, where she died in 1963 at age 80.

In 2013, after this book was written, she would be inducted into the Canadian Mining Hall of Fame and was honoured and respected for her challenges and successes as a prospector.
About the Author
---
Max Juby was born in 1931 on a Quebec farm and graduated from McGill University. Most of his professional life was spent prospecting and exploring for gold and other minerals. This involved extensive travel and lengthy periods on time in and around small mining towns across Northern Canada (the "bush"). His principal employer was well-known Canadian mining entrepreneur J.P. (Pat) Sheridan Sr. Max is now retired and lives in Montreal with family.

In 1979, Max discovered his writing bug and has written over 800 poems, some published on Poetry.com and some compiled in 14 books. He has also written over 7,000 songs, singing and performing them in various locations including Reno, Nevada and on YourTube.com. Max has the MaxJuby.com website, and at age 90 continues his prolific production by writing two or three new songs every single day.