A Householder's Guide to the Universe: A Calendar of Basics for the Home and Beyond (Paperback)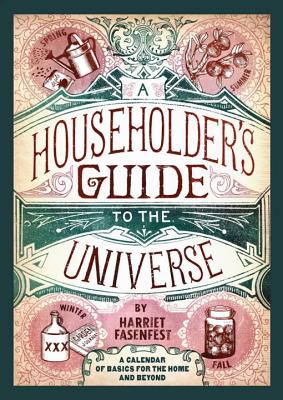 List Price: $16.95
Our Price: $14.41
(Save: $2.54 15%)
Description
---
In an era when go local, organic food, and sustainability are one the tip of everyone's tongues, Harriet Fasenfest's A Householder's Guide to the Universe takes up the banner of progressive homemaking and urban farming as a way to confront the political, social, and environmental issues facing our world today.
In
A Householder's Guide to the Universe
, Harriet Fasenfest invites the reader into her home, garden, and kitchen. With brightness, joy, and humor, she shares advice and offers practical solutions organized according to season and presented in monthly installments—lessons she's learned in how to shop, garden, preserve and cook food, and more, all of which pave the way for a life rooted in self-reliance, sustainability, and simplicity. It's a book about making your house your home, finding certainty and comfort in an uncertain world, embracing the present and living where you are while preparing for a beautiful future. 
About the Author
---
Harriet Fasenfest is an avid gardener, food preserver, homemaker, and lover of the soil. At fifty-six, Harriet officially fled main street (and her restaurants) for the greener pastures of the backyard, where she teaches classes on householding. Born and raised in the Bronx, she currently lives in Portland, Oregon.
Praise For…
---
"Part manifesto, part confessional, yet totally practical and attainable, Fasenfest's inviting, impassioned guide delineates precise ways homeowners can develop the skill sets necessary for self-sufficiency."
Booklist

"A Householder's Guide to the Universe is like a thick slice of rhubarb pie. Tart, saucy, colorful. . . [Fasenfest] charts a month-by-month plan of attackand make no mistake, she's a kitchen warrior, picking and preserving her edibles like a many-armed Ganeshinviting urbanites to harvest and ferment their way to a more tasty, meaningful life."
Willamette Week

Householding, in Harriet's view, is about a return to the rhythms and traditions of gardening, food storage, cooking and family life, all of which she fervently believes grounds people. . . If you're thinking about really throwing yourself into gardening and home life, this is a good book to get."
Oregonlive.com

"A Householder's Guide to the Universe is not quite the typical DIY homemaking manualit is part autobiography, part reference manual, part garden journal. . . Fasenfest is simultaneously expert and self-depreciating, funny and then deeply personal."
Culturemob.com

"Whether you choose to read Fasenfest's tome on a month-by-month basis, turn straight to the planting guide or spend an afternoon gleaning nuggets from the instructional and inspirations gems contained within, be prepared to look at your own universe a little differently."
Cascadia Weekly

"Reading [Fasenfest's] advice, you can't help but get caught up in her urban homesteading revolution and the notion that it will cure what ails our culture."
The Eugene Register-Guard

"Harriet Fasenfast is a skilled urban homesteader with a lot to share. I love the way she weaves together practical gardening tips and food preservation techniques with relevant personal stories and philosophical reflections. A Householder's Guide to the Universe is charming and inviting, sure to be a source of inspiration to anyone aspiring to get closer to the source and produce their own food."Sandor Ellix Katz, author of Fermentation and The Revolution Will Not Be Microwaved

"This is a wonderful book. Harriet Fasenfest is like a wise and kind
Northwestern neighbor who has time for you."
- Shannon Hayes, author of Radical Homemakers, The Grassfed Gourmet, and The Farmer and the Grill

"When [Harriet Fasenfest's] book arrived last fall, I gobbled it up like a thriller, because it's so full of good information, and I wanted to see what she was going to do next. A Householder's Guide to the Universe isn't a strict DIY book, nor is it just a memoir, nor is it solely an examination of how corporations have colonized even the most personal corners of our livesit's all of those and more."Bookslut