The Strategic Student: Successfully Transitioning from High School to College Academics (Paperback)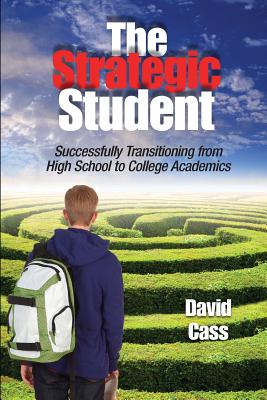 $14.99

Warehouse, In Stock | Usually Ships in 1-5 Days | New
Description
---
"A practical guide of immense value to both students and their supporters as they deal with the new and different challenges posed by the transition from high school to college academics." -George Ballinger, Director of Family Affairs and Veterans Affairs, University of Colorado, Boulder
"It is a must read for our junior and senior students" -Andrea Sabadosh, Jefferson County Colorado, International Baccalaureate Program Coordinator
"Perceptive and useful from a practical viewpoint. An easy read, I have no doubt incoming freshmen will benefit from its insights." -Anthony Chatham, Professor, Tulane University
1 in 4 college freshmen do not return for sophomore year. 45% of college freshmen will never graduate. 65% of college students feel they have underachieved. Why?
Every college student can succeed academically and obtain a high GPA. The reason so many college students underperform is because they're not taught how to transition from the structured high school environment to the unstructured college academic environment. The Strategic Student teaches high school seniors and college underclassmen how to make this transition and become more self-reliant. The author served as a college professor, academic advisor, and administrator at the University of Colorado in Boulder. As a freshmen professor and advisor, he collected lessons and study habits he learned from his students and later returned to school to take undergraduate classes to test and refine the strategies covered in this book. The Strategic Student is the only book that offers a student, professor, and advisor perspective along with tested and proven academic strategies.
About the Author
---
David Cass is an adjunct professor and administrator at the Leeds School of Business at the University of Colorado in Boulder. He is also the CEO of Uvize, Inc., an education technology company focused on student student success. David holds a BA from Tulane University and an MBA from University of Colorado, Boulder. David is also a former naval officer. He lives in Boulder, Co. with his family.