Central Bankers at the End of Their Rope?: Monetary Policy and the Coming Depression (Paperback)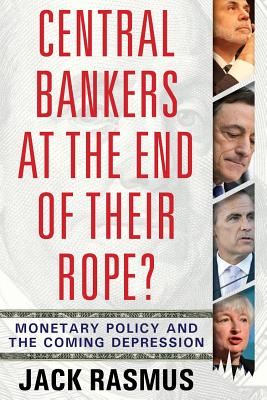 List Price: $26.95
Our Price: $18.95
(Save: $8.00 30%)
Description
---
Central banks are becoming a force of economic destabilization in the 21st century-contrary to accepted notions of contemporary economic theory. The basic functions of central banks-whether managing money supply, supervising private banks, bailing out failing banks, stabilizing prices, promoting real investment, employment and growth-have all entered a state of increasing decay, breakdown and failure.
- Central banks globally have been losing control, individually and collectively, of the global money supply;
- have progressively destabilized the global economy with decades of ever-rising liquidity and debt;
- have chronically failed to prevent financial asset inflation bubbles or stop the steady drift toward deflation in goods, money and labor prices;
- have been unable to adapt to technology forces that have fundamentally restructured the global financial system;
- have effectively ignored the growth of capital markets, inside credit and shadow banking;
- have failed to regulate and supervise private banks that remain, post-2008, still addicted to high risk taking;
- have proven unable to develop policies and tools to effectively stimulate investment, jobs, and real GDP; and
- and have failed to construct a stable system to replace the gold standard or the Bretton Woods international monetary systems;
The book describes the fundamental causes of the breakdown and emerging crisis of central banks-with primary focus on the US Federal Reserve, the Banks of England and Japan, the Eurozone's ECB, and the People's Bank of China. The book's central theme is that central banks, as constituted today, are not only failing their basic functions-in the process becoming more desperate in experimenting with new measures and policies-but have become increasingly the vehicles of the interests of private bankers and investors. Central banks must therefore be democratized to represent the entire economy and not just bankers and investors. Proposals for institutional restructuring of the US Federal Reserve (and other central banks) are offered as means to ensure central bank independence of both banker-investor interests as well as politicians'. Public banking is discussed and argued as necessary, but not sufficient, as a solution. A Constitutional Amendment to democratize the Fed is proposed.