The Book on Writing: The Ultimate Guide to Writing Well (Paperback)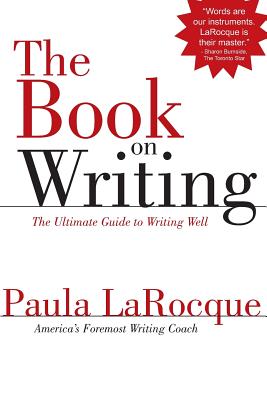 $9.99

Warehouse, In Stock | Usually Ships in 1-5 Days | New
Description
---
You're going to love the way Paula LaRocque teaches in The Book on Writing. A celebrated writing coach with a sense of humor and a gentle touch, she's also a master writer herself with a long and distinguished career in both teaching and practicing the art of writing.

The Book on Writing contains 25 chapters in three sections:

- A dozen essential but easy-to-apply guidelines to good writing, from the importance of clarity to the value of a conversational tone. Paula LaRocque believes learning is easier and more successful when we are not only told but also shown. So her Book on Writing is chockfull of actual writing examples that supplement and illustrate principles that apply as naturally to fiction as they do to nonfiction.

- How to tell a story-from building suspense, to effective description, to the uses of metaphor and literary devices. Paula LaRocque also deals with the narrative "engine" and the value of the archetype in plotting and characterization-as well as with pace and speed and leveling what she terms writing's "speedbumps."

- A clear and concise handbook that deals with common problems in grammar, usage, punctuation, and style-the kind of problems that often trouble even wordsmiths. The handbook also debunks pesky language "rules" that are actually myths.

The Book on Writing is one-stop shopping for writers. Read it once, and you'll be a better writer. Read it often, and you'll be among the best.
About the Author
---
PAULA LaROCQUE Biography Paula LaRocque is a communications consultant who has conducted writing workshops for hundreds of media, government, academic, and business groups in the United States, Canada, and Europe. She was assistant managing editor, writing coach, and frequent columnist at The Dallas Morning News from 1981 through 2001. She also has been writing consultant for the Associated Press, the European Stars & Stripes, and the Drehscheibe Institute in Germany. From 1971 to 1981, she taught technical writing at Western Michigan University's School of Engineering, and communications/writing at Texas A&M, Southern Methodist, and Texas Christian universities. She has been a columnist for Quill magazine since the early 1990s, airs commentaries on the language for National Public Radio in Dallas, and is author of three non-fiction books and a novel: The Book on Writing: The Ultimate Guide to Writing Well Championship Writing: 50 Ways to Improve Your Writing On Words: Insight Into How Our Words Work-and Don't Chalk Line, a Ben Gallagher mystery. Her second novel in the Ben Gallagher mystery series, Monkey See, will be published in 2013. A member of the Associated Press Managing Editors association from the early 1990s through 2001, Paula was elected to the Board of Directors and appointed an officer. In 2001, the association granted her its singular and highest honor: the Meritorious Service Award for exemplary contribution to journalism. She earned a Bachelor of Arts degree Summa Cum Laude and a Master of Arts degree from Western Michigan University. Blog and website: www.paulalarocque.com Paula also can be found on Facebook, Twitter, Goodreads, and LinkedIn.