The DEFINITIVE Breed Standard Comparison in PHOTOS for Australian Shepherds and Miniature American Shepherds: Akc, Fci, Asca. English (Paperback)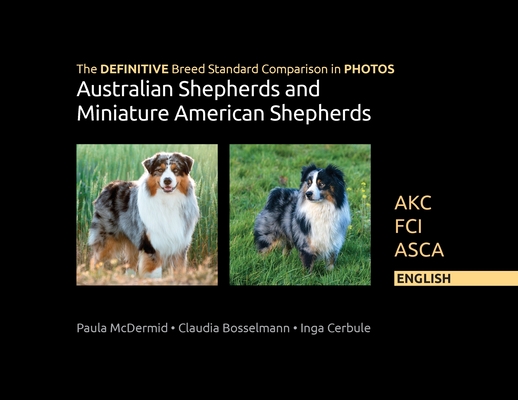 $41.99

Warehouse, In Stock | Usually Ships in 1-5 Days | New
Description
---
This unique book illustrates in photos the ideal moderate breed type and characteristics of Australian Shepherds and Miniature American Shepherds. Using 242 photos of excellent examples of these breeds, this book compares five breed standards: AKC, FCI and ASCA for Australian Shepherds; and AKC and FCI for Miniature American Shepherds.
Breed standards describe the ideal appearance, characteristics, and temperament of a breed; they are a blueprint for a dog who is able to perform the job for which the breed was developed.
Reading and understanding a breed standard requires knowledge of specific terminology and dog anatomy, as well as familiarity with the breed overall. However, written breed standards leave room for interpretation, and misunderstanding of descriptions is common. Inaccurate interpretation of the standards results in faulty judging and breeding decisions, causing the breeds to veer away from the ideal dog intended by the breed founders.
The purpose of this book is to fill in knowledge gaps using photos of correct dogs, and explain the reasons why traits are desirable or undesirable, according to the breed standards.
The authors are three highly respected judges from the USA and Europe.