Financial Planning for Global Living: Go Beyond Cross-Border Tax and Legal Complexity to Location Independence, Financial Freedom and True Life Satisf (Paperback)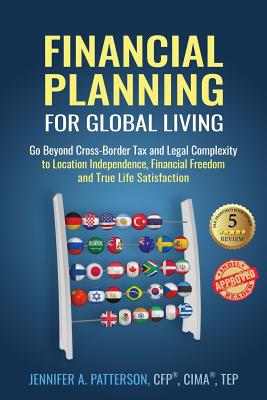 List Price: $18.99
Our Price: $16.14
(Save: $2.85 15%)
Warehouse, In Stock | Usually Ships in 1-5 Days | New
Description
---
What is financial planning for global living?
Whether you are embarking on a short- or long-term overseas assignment, moving for love, are a dual citizen, are considering retiring abroad, or are an advisor to people in any of those situations, Financial Planning for Global Living will give you the insight and practical guidance, and the tools you need, all honed from the trenches. You'll learn the key dynamics of the community and lifestyle, discover the key technical issues that affect tax and legal complexity, and you'll learn both the model and the methodology to confidently design a plan that allows you to live, work, play, and make a difference from anywhere in the world while you and your family live a full, financially secure, happy, and well-structured life... across borders.
Praise for Jennifer Patterson and Financial Planning for Global Living
"Having suffered the trials and tribulations of going expat in my mid-career in the 1990s, I wish that I had been given the information in this book those many years ago. Jennifer Patterson takes a complex and emotional subject and lays out a clear strategy for any individual or family trying to navigate the many conflicting forces at play when you move country, move job, and move out of a safe "home" environment. Jennifer lays out a bold manifesto, based on solid principles and experience. This book can save you money, your marriage/partnership, and a lot of emotional turmoil that normally leads to ill-health. Well worth reading and acting on the key ideas."
-- Lorne Mitchell, Managing Director, Objective Designers Ltd.
"Although this may be the financial planning profession's best resource on cross-border planning issues faced by people navigating among a variety of national and local tax jurisdictions, Financial Planning for Global Living also serves as a valuable guidebook for how to live a better, more prosperous, more intentional life."
-- Bob Veres, Publisher, Inside Information
"Jennifer Patterson is passionate about the importance of creating a financial foundation that supports individuals and families living globally. This book is the culmination of her many years' experience -- both personal and professional -- of the realities of cross-border living, and it resonates with the warmth and wisdom she brings to this often neglected part of our lives. She blends practical guidance with a firsthand understanding of the challenges cross-border families face, helping us to achieve long-term security in an ever changing world. "
-- Rachel Yates, Creator, The Expat Lifeline
"Jennifer Patterson has written a must-read primer for anyone amidst or considering cross-cultural living... Read this book -- and learn from one of the best. Financial Planning for Global Living is the exhaustive field guide that should be included with every international assignment so the issues that matter are dealt with from the start of this wonderful global adventure."
-- Andrew Jernigan, Expat Insurance Broker and Co-founder, International Care