The Cmio Survival Guide: A Handbook for Chief Medical Information Officers and Those Who Hire Them, Second Edition (Himss Book) (Paperback)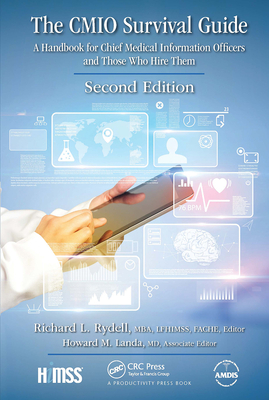 This item is backordered and not currently available. Please contact us for an estimated availability date.
Description
---
The CMIO Survival Guide is the handbook for the new Chief Medical Information Officer, as well as for those recruiting or planning to recruit a CMIO. This quick reference is organized by real-world topics that CMIOs need to know, as well as the criteria that the CIO, CMO or CEO should consider in identifying excellence in a CMIO candidate. It is written by pioneering physicians and AMDIS faculty with a wealth of experience in medical informatics who provide guidance, advice and lessons learned for those interested in this relatively new role in healthcare.
This second edition updates every chapter in the original work and adds new chapters to address the changes in healthcare delivery, the role of the physician executive, technology, medical education, small and rural hospitals.
About the Author
---
Richard L. Rydell, MBA, FACHE, LFHIMSSFounder and CEO, AMDISRich Rydell is a founder and CEO of the Association of Medical Directors of Information Systems (AMDIS), the premier physician membership organization dedicated to advancing the field of applied medical informatics. Mr. Rydell has a distinguished career as a healthcare executive, serving as a Senior Vice President and Chief Information Officer at Memorial Health Services, Long Beach; Stanford University Medical Center; and Baystate Health Services. He is a Fellow in the American College of Healthcare Executives and a Fellow and Life Member of the Healthcare Information and Management Systems Society. He served as National President of HIMSS and was a founding Board Member and Vice Chairman of the College of Healthcare Information Management Executives (CHIME). Mr. Rydell is the co-author of the popular books, The Physician-Computer Connection and the The Physician-Computer Conundrum. He was recognized in 2011 as one of the 'HIMSS 50 in 50, ' a recognition of 50 individuals who contributed significantly to the field of healthcare information technology and the improvement of healthcare through technology, in the 50 years since HIMSS was founded.Dr. William F. Bria, MDPhysician AdvisorDr. William F. Bria is the Chairman of the Board, Association of Medical Directors of Information Systems (AMDIS)Dr. Bria is a Pulmonary/Critical Care physician with 35 years experience. He has served as the EVP for Medical Informatics and Patient Safety at CHIME, Chief Medical Information Officer (CMIO) for the HCI group, CMIO for the 22 hospital Shriners Hospitals for Children System, the University of Michigan and Baystate Medical Center. He is an Adjunct Clinical Associate Professor of Medicine at the University of Michigan and University of South Florida. Dr. Bria has been a leader in Applied Medical Informatics for over 35 years. He has authored numerous articles and books on informatics and most recently, The CMIO Survival Guide (HIMSS).Dr. Bria is the past president of the Medical Information Systems Physicians Association, and past Chair of the HIMSS Physicians Community.Over the past 16 years he was Medical Director of Clinical Information Systems at the University of Michigan and Medical Director of the Critical Care Medical Unit. Dr. Bria is a Fellow in the American College of Chest Physicians.Dr. Bria has been a consultant for the Institute of Medicine on the Computerized Patient Record and to the United States Congress on matters of the application of information technology to the practice of medicine. He has served as an advisor to the National Center for Research Resources (NCRR). He has lectured on medical informatics throughout the U.S. and around the world.He is currently engaged in research in applied medical informatics and recently published a book entitled Digital Communication in Medical Practice. He was named to the Most Influential 50 Physician Executives in Healthcare in 2013.Howard M. Landa, MDMedical Informatics Consultant, Foster Dean, Inc.An accomplished C-Suite Executive with proven record of leveraging innovation, technical expertise and operational knowhow to deliver Healthcare Information Technology (HIT) solutions. Industry recognition including 20 years as Vice-Chair of the Association of Medical Directors of Information Systems; Two years as the chairmen of the HIMSS Physician Community, and a Modern Healthcare's top 25 Medical Informaticists award recipient 2010, 2011 and 2012.