State Building and Social Policies in Developing Countries: The Political Economy of Development (Routledge Studies in Development Economics) (Hardcover)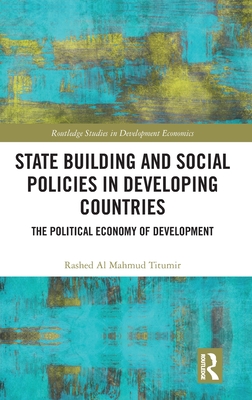 $200.00

Warehouse, In Stock | Usually Ships in 1-5 Days | New
Description
---
This book moves away from the orthodox neoliberal paradigm to suggest a new framework linking social policy with citizenship and transformation. The interjection of nation building, public society and public provisioning to the study of education, healthcare and employment caters to the needs of citizens equitably. By combining and coagulating these three broad arenas of politico-economic discussion, this book takes a new approach to the analysis of social policymaking in developing countries to indicate the drivers and triggers of transformation. It makes comprehensive, thorough critical comparisons between the trajectories of developed and developing countries, finds out the gaps in transformation and suggests drivers for changes.
The intentions of social policymaking, as proposed in the book, are to curb the growing inequalities in the forms of class, power and marginalisation. The chapters on education focus on provisioning of public goods for skills formation, innovation and citizenship education. The sections on healthcare centre on universal health care as opposed to universal health coverage by analysing access, healthcare-seeking behaviour, price setting, market provisioning etc. For the chapters on employment, propositions are posited regarding the expansion of productive capacity, factor mobility and social security to ensure work for all.
Besides theorising education, healthcare and employment based on public provisioning by the people's state, underwritten by a public society, the book provides feasible solutions through data sourced from all major international organisations. In addition, it recognises the unique postcolonial struggles and aspirations of the developing countries, and accordingly resorts to defining the normative principles, reflecting nuances, subtleties and peculiarities.
This book is a continuation of the author's Fiscal and Monetary Policies in Developing Countries: State, Citizenship and Transformation (Routledge) and will draw the attention of scholars and researchers who wish to gain a deeper understanding of, and pragmatic solutions to, social policies that address the transformational pathways of developing countries, accentuated by the COVID-19 pandemic.
About the Author
---
Rashed Al Mahmud Titumir is a professor of economics at the Department of Development Studies, University of Dhaka, Bangladesh. He has led numerous projects for diverse organisations including governments, development partners and international organisations at home and abroad.