Judicial Process and Judicial Policymaking (Paperback)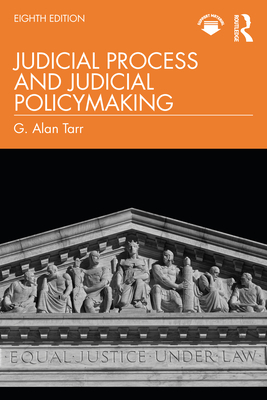 This item is backordered and not currently available. Please contact us for an estimated availability date.
Description
---
An excellent introduction to judicial politics as a method of analysis, the eighth edition of Judicial Process and Judicial Policymaking focuses on policy in the judicial process. Rather than limiting the text to coverage of the U.S. Supreme Court, G. Alan Tarr examines the judiciary as the third branch of government, and weaves four major premises throughout the text: 1) Courts in the United States have always played an important role in governing and their role has increased in recent decades; 2) Judicial policymaking is a distinctive activity; 3) Courts make policy in a variety of ways; and 4) Courts may be the objects of public policy, as well as creators.
New to the Eighth Edition
Discusses appointments by Presidents Donald Trump and Joseph Biden to the federal courts, including the confirmations of Gorsuch, Kavanaugh, Coney Barrett, and Jackson to the Supreme Court.
Introduces the controversy of the Supreme Court's "shadow docket."
Analyzes the legal and political aftermath of the
Dobbs v. Jackson Women's Health
Organization
overruling
Roe v. Wade
.
Examines other key state and federal rulings on non-unanimous verdicts in criminal cases, gerrymandering, climate change, and separation between church and state.
About the Author
---
G. Alan Tarr received his doctorate from the University of Chicago. He is Board of Governors professor of political science emeritus and founder of the Center for State Constitutional Studies at Rutgers University, Camden. Professor Tarr has served as a constitutional consultant in Russia, South Africa, Cyprus, and Myanmar. . A three-time NEH Fellow, he has most recently completed a study of judicial independence and accountability in the American states.