Concise notes of Medical Laboratory Technology: Vol 1 (Paperback)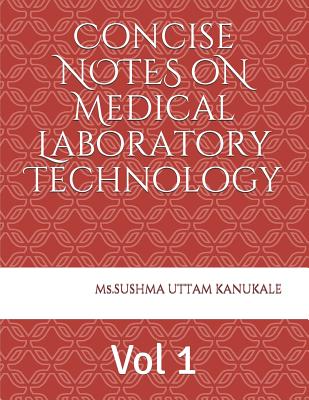 $75.00
This item is backordered and not currently available. Please contact us for an estimated availability date.
Description
---
This book strives to provide the basic fundamental background knowledge by which a learner can be introduced to these practices and to serve as a resource for laboratory personnel and building up of a concept. This book will also be helpful for health care providers. For well-established operations and for standards of accreditation of clinical laboratories is extremely involved in basic analysis, quality control, employee competencies, and cost-effective strategies of operation. The book contains chapters on1.Human anatomy and physiology2.Hematology and Blood Banking3.Clinical Pathology4.Medical BiochemistryHuman anatomy and physiology chapters serve the knowledge of the structure and function of a healthy human body and the changes which take place when disease interferes with normal processes. Hematology is a branch of science deals with study of blood, its components and changes it undergoes during illness. While blood banking is a science which deals with collecting, testing and transfusing blood and its products for replacement of lost blood. Clinical Pathology is a basic subject in laboratory science which deals with examination of various body fluids / Excreta for presence of multiple factors like chemical, biological and physical as cause or effect of illness. Biochemistry (medical) is a study of chemical components of human body. Estimation of chemical molecules is essential to know disease process at molecular level and thus biochemistry help us to identify abnormal function at earlier stage of diseases and it is also useful for prognostic purpose. The book can be considered as a source of information/ academic performance for students, and personnel's in the discipline of clinical pathology and laboratory medicine, and for physicians and laboratory practitioners. Color illustrations have been used throughout the book to accurately, realistically depict to provide clear image of subject. OBJECTIVES of the book: Students will learn to use common anatomy terms, identify various systems in Human Body and describe working of various systems in Human Body and OrgansThey'll learn about normal formation & function of various types of blood cells, coagulation mechanism & various factors that cause the significant changes in the no. of specific cells & related clinical conditions. Student will learn theoretical aspects of immuno-hematology and basic blood bank procedures.In clinical pathology, student will learn the normal composition of various body fluids & feces & also the changes in their composition in various clinical conditions.Medical Biochemistry strives to make understand about the normal chemical nature & chemical behavior of human system & how changes in these aspects lead to various clinical conditions.Application of the book: Understanding & getting familiarized with the various facts of Anatomy & physiology so as to acquire a strong foundation to apply these principles in advanced technology area.To develop skills of diagnostic study of blood and its components as well as to acquire the technique of blood collection, testing and its transfusion.To develop the pathological skills of examination of urine, stool, sputum, semen, CSF and fluid.Use skill of clinical biochemistry techniques for pathology tests and analyse the results and provide reports.