De la Biblia a la vida: Sabiduría diaria para la vida la mujer (Paperback)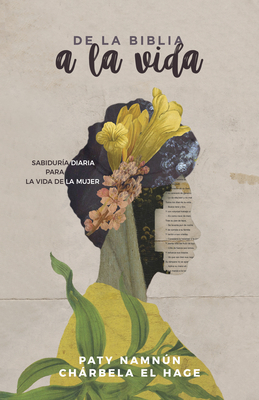 List Price: $14.99
Our Price: $12.74
(Save: $2.25 15%)
Description
---
En los últimos años hemos sido testigos de un aumento significativo en los ministerios que elaboran estrategias para equipar a las mujeres para sus múltiples llamamientos (trabajo, hogar, iglesia, cónyuge, etc.). El impulso ha sido nada menos que espectacular, ya que ha respondido a preguntas de por qué y qué debe suceder. Sin embargo, como cualquier movimiento, la necesidad de mostrar cómo hacer esto no ha sido tan clara. En De la Biblia a la vida el lector encontrará respuestas sobre su vida profesional, las tareas domésticas, el ministerio de la iglesia local, amar a su prójimo, etc. que lo guiarán hacia vidas florecientes y fieles ante el rostro de Dios.

In the past few years we have witnessed a significant increase in ministries strategizing around equipping women for their multiple callings (work, home, church, spouse, etc.). The momentum has been nothing short of spectacular as it has answered questions of why and what needs to happen. However, like any movement, the need to show HOW to go about this has not been as clear. In De la Biblia a la vida the reader will find answers about their professional life, homemaking, local church ministry, loving your neighbor, etc. that will guide you toward flourishing and faithful lives before the face of God.
About the Author
---
Patricia Namnún es coordinadora de iniciativas femeninas en Coalición por el Evangelio, desde donde escribe, contacta autoras y adquiere contenidos específicos para la mujer. Sirve en los ministerios de mujeres y matrimonios de su iglesia y es diaconisa en la Iglesia bautista internacional, República Dominicana. Tiene un certificado en ministerio del Southern Baptist Theological Seminary, a través del programa Instituto para esposas del seminario y un Diplomado en Estudios Bíblicos a través del Instituto Integridad y Sabiduría. Ama enseñar la Palabra a otras mujeres y proveerles de herramientas que les ayuden a manejarla con precisión. Está felizmente casada con Jairo Namnún desde el 2008.
Patricia Namnún is the coordinator for Spanish women's initiatives at The Gospel Coalition [Coalición por el Evangelio] from where she writes, contacts authors and acquires specific content for women. She serves in the women's and couples' ministries at her local church and is a deaconess at the International Baptist Church in Dominican Republic. She has a certificate in ministries from the Southern Baptist Theological Seminary through the Seminary Wives Institute´s program and a Certificate in Bible Studies from the Integrity and Wisdom institute [Instituto Integridad y Sabiduría]. She loves to teach the Word of God to other women and equipping them with tools to help them handle it with precision. She is happily married to Jairo Namnún since 2008.
 
Chárbela El Hage de Salcedo es diaconisa en la IBI, y en la misma forma parte del ministerio de mujeres EZER. Está casada con el pastor Héctor Salcedo con quien ha procreado dos hijos Elías y Daniel. Junto a Patricia de Namnún es co anfitriona del podcast De la Biblia a la Vida. Chárbela posee una maestría en Formación Espiritual y Discipulado del Moody Theological Seminary, de la ciudad de Chicago. 
Chárbela El Hage de Salcedo is a deaconess at the IBI, and in the same way she is part of the EZER women's ministry. She is married to Pastor Hector Salcedo with whom she has fathered two sons Elias and Daniel. Together with Patricia de Namnún she is co-host of the podcast From The Bible to Life. Chárbela holds a master's degree in Spiritual Formation and Discipleship from Moody Theological Seminary, Chicago.