Suburban Howls: Tracking the Eastern Coyote in Urban Massachusetts (Paperback)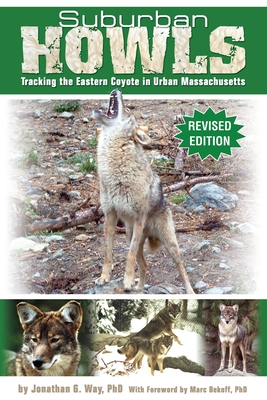 $20.99

Warehouse, In Stock | Usually Ships in 1-5 Days | New
Description
---
Suburban Howls is about the experiences and findings of a biologist studying eastern coyote ecology and behavior in urbanized eastern Massachusetts. Jon Way is acting out a childhood dream to study wild animals. However, instead of going to far off places such as Africa or the remote stretches of the Rocky Mountains, he began his professional career in high school and college by tracking eastern coyotes in his own hometown on Cape Cod.
We hear so much about this unique animal and the conflicts it can create but relatively little is known about the coyotes in the east. The lack of other studies taking place on coyotes in urbanized areas in eastern North America provided Way with the perfect graduate project, and an unending source of information and entertainment. The coyote is a remarkable animal, being one of the only carnivores to actually increase its range and distribution in the past one hundred years. Coyotes have taken over as top predator in all environments in New England from wilderness parks to city greenbelts. Along its migration to the northeast it has become larger, likely the product of hybridization between western coyotes and eastern wolves, and with that, we see more speculation and theories about what the animal is, how it got here, and why it is here.
This book celebrates having these animals living among us and makes a passionate plea for their protection. After all, with the eradication of most of their competition in New England, mainly wolves, a niche for a relatively large carnivore was left vacant for over one hundred years. Coyotes naturally colonized these areas on their own four feet and deserve the respect that any native carnivore should be granted. With their tremendous range expansion in a relatively short amount of time, coyotes proved that it is unnatural not to have a predator in most ecosystems.
In Suburban Howls, Way takes us with him as he navigates dirt roads and wooded paths, travels through cemeteries, around cranberry bogs, in and out of residential areas, down power lines, and even into the city to see where coyotes travel and rest and how they survive, raise pups, prosper as a family, and ultimately die, many before their time. A fascinating account details the author raising a wild-born litter of coyotes, capturing his first coyote in a box trap, tracking a coyote into downtown Boston, documenting an increase in local coyote numbers following the death of resident territorial coyotes, and seeing first-hand how coyotes mourn when separated from their family. The reader will discover that it is perfectly appropriate to have wildlife in developed areas and that people, not wild animals, are the ones that typically have a hard time adjusting to their new neighbors. With a territorial species like a coyote, any land that does not have other coyotes might as well have a "For Rent" sign out.
This book is written for the layman in a humorous, easy-reading style. It highlights the dedication and emotional involvement of working with this needlessly controversial animal, and will offer simple precautions to enable Homo sapiens to coexist with these wild canines that Native Americans called the Trickster. The data Way has gathered over the past ten years will enlighten and educate you with an insight into the behavior and habits of these remarkable wild dogs.